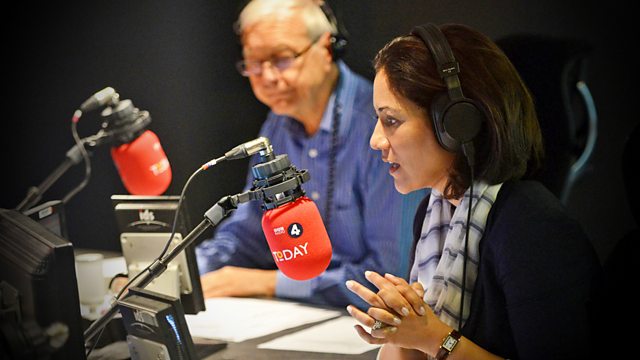 06/07/2012
Morning news and current affairs presented by John Humphrys and Justin Webb, featuring:
0719 The Church of England's ruling Synod begins a meeting in York today that could see it take the historic decision to create women bishops, breaking a tradition the Church traces back to the time of Jesus. The BBC's Robert Pigott reports.
0810: Drug company GlaxoSmithKline pleaded guilty to violations involving 10 drugs. The Today programme's Tom Feilden reports and Stephen Whitehead, chief executive of Association of the British Pharmaceutical Industry, shares his thoughts on how this has affected the industry.
0838 The mummy porn novel Fifty Shades of Grey has made the subject of sex, fashionable again. Author John Banville, and Rachel Johnson, whose book Shire Hell was the winner of the bad sex in fiction award in 2008, debate how to write about sex.
Last on