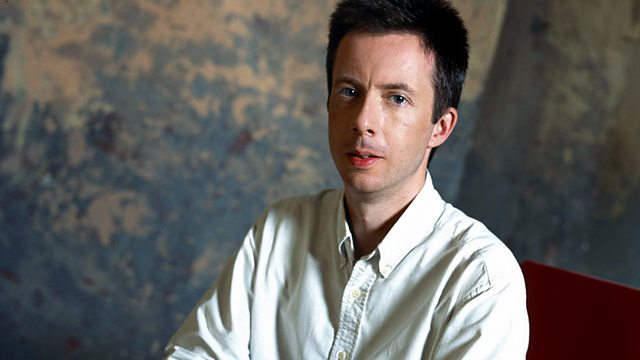 04/07/2012
John Shea presents a performance of Britten's affecting War Requiem recorded in South Korea in 2011.
12:31 AM
Britten, Benjamin [1913-1976]
War requiem Op.66
Youngmi Kim (soprano), Derek Chester (tenor), Locky Chung (baritone), Ansan City Chorus, Suwon Civic Chorale, Uijeongbu Civic Chorale, Goyang Children's Choir, KBS Symphony Orchestra, Shinik Hahm (conductor)
1:55 AM
Beethoven, Ludwig van [1770 -1827]
Sonata for piano No.4 (Op.7) in E flat major
Alfred Hoehn (piano)
2:19 AM
Delius, Frederick [1862-1934]
The Walk to the Paradise Garden
BBC Concert Orchestra, Barry Wordsworth (conductor)
2:31 AM
Franck, Cesar [1822-1890], arr. Rampal, Jean Pierre
Sonata for flute and piano (orig. violin and piano)
Carlos Bruneel (flute), Levente Kende (piano)
2:57 AM
Praetorius, Jacobus [1586-1651]
Praeambulum in F major
Geert Bierling (organ)
2:59 AM
Mendelssohn, Felix [1809-1847]
Three Psalms (Op.78)
Chamber Choir AVE, Andraz Hauptman (conductor)
3:20 AM
Borodin, Alexander [1833-1887]
Overture 'Prince Igor'
Slovak Radio Symphony Orchestra in Bratislava, Oliver Dohnányi (conductor)
3:32 AM
Scarlatti, Domenico [1685-1757]
Sonata for keyboard in E major (K.46/L.25)
Ilze Graubina (piano)
3:36 AM
Vivaldi, Antonio [1678-1741]
Concerto in A major (RV.335), "The Cuckoo"
Elizabeth Wallfisch (baroque violin), Australian Brandenburg Orchestra, Paul Dyer (director)
3:46 AM
Tchaikovsky, Pyotr Il'yich [1840-1893]
Tatyana's Letter Scene from the opera "Eugene Onegin" (Act I Scene 2)
Joanne Kolomyjec (soprano, Tatyana), Calgary Philharmonic Orchestra, Mario Bernardi (conductor)
3:59 AM
Traditional, arr. Narcisco Yepes [1927-1997]
Romanza for guitar
Stepan Rak (guitar)
4:05 AM
Chopin, Fryderyk [1810-1849]
Waltz for piano (Op.18) in E flat major "Grande valse brillante"
Ingrid Fliter (piano)
4:11 AM
Purcell, Henry [1659-1695]
Nos.13 & 14 from 'Hail, bright Cecilia' (Z.328)
Soloists, Chorus and Instrumentalists of Swiss Radio, Lugano, Diego Fasolis (conductor)
4:16 AM
Lopes-Graca, Fernando [1906-1994]
Portuguese Dances, Op 32 (1941)
Portuguese Symphony Orchestra, Wolfgang Rennert (conductor)
4:23 AM
Arban, Jean-Baptiste [1825-1889]
Variations on "Casta diva... Ah! Bello" - from Bellini's 'Norma'
Alison Balsom (trumpet), John Reid (piano)
4:31 AM
Sarasate, Pablo de [1844-1908]
Zigeunerweisen for violin and orchestra (Op.20)
Laurens Weinhold (violin), Brussels Chamber Orchestra
4:40 AM
Mozart, Wolfgang Amadeus [1756-1791]
Piano Sonata No.10 in C (K.330)
Dang Thai Son (piano)
4:54 AM
Janequin, Clement [c. 1485-1558]
Escoutez tous gentilz (La bataille de Marignon/La guerre)
The King's Singers
5:02 AM
Koehne, Graeme [b.1956]
Divertissement: Trois pieces bourgeoises
Australian String Quartet
5:15 AM
Corelli, Arcangelo [1653-1713]
Sonata da Chiesa in B minor (Op.1 No.6)
London Baroque
5:21 AM
Strauss, Richard [1864-1949]
4 Letzte Lieder for voice and orchestra (AV.150)
Ragnhild Heiland Sørensen (soprano), Norwegian Radio Orchestra, Milan Horvat (conductor)
5:44 AM
Chopin, Fryderyk [1810-1849]
Prelude in C sharp minor, Op.45
Ivo Pogorelich (piano)
5:50 AM
Valentini, Giuseppe [1681-1753]
Quell'augellin che canta, a 9 (contains birdsong)
La Capella Ducale , Musica Fiata Köln
5:55 AM
Kraus, Joseph Martin [1756-1792]
Quatre Intermedes for Moliere's comedy 'Amphitryon' - Intermede III (VB.27)
Chantal Santon (soprano - La Nuit), Georg Poplutz (tenor - Hérault), Bonner Kammerchor, L'Arte del mondo, Werner Ehrhardt (conductor)
6:08 AM
Molique, Bernhard [1802-1869]
Sonata for concertina and piano (Op.57)
Joseph Petric (accordion), Guy Few (piano).
Last on