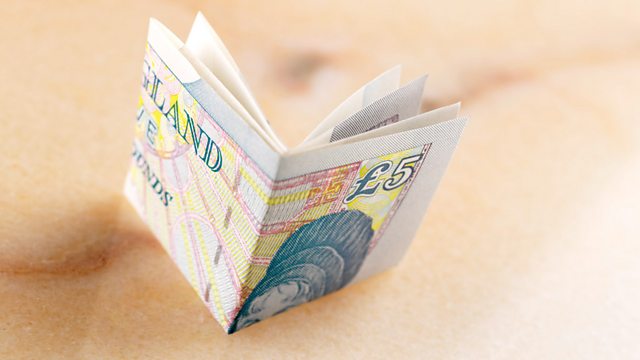 Prayer Before a Five Pound Note
Money occupies a central position in the lives of people around the world - no matter the culture or currency. And yet few of us ever pause in our earning and spending to consider what is it's real role within our society? What is its weight in our lives? In this edition of Something Understood, Mark Tully explores our human relationship with money and asks, given its immense power, what should be our Prayer Before a Five Pound Note?
We hear readings from a broad range of writers, with all sorts of view points on money, from Christian activist Monica Furlong to publishing magnate and poet Felix Dennis. Music includes Michael Head's exaltation of poverty, "Money O!" and JJ Cale's "Money Talks".
Mark speaks to Professor Jacob Needleman, who believes most people ignore the spiritual implication of money in their day to day lives, and do so at their peril. This is a strange attitude to take towards something which has such a singular power over us, as shown by Jacob's own experiments, in which he attempts to hand a five dollar bill to strangers in the streets. Their reactions, and his own feelings on giving away money in this way, reveal great deal about our often fraught interactions with it.
It seems that humanity teeters between the obsessive pursuit of money and often futile attempts to rid themselves of it. Perhaps the most productive way to engage with it is to abandon those two extremes and instead use it as a mirror to show us ourselves - the way we spend reveals our priorities in often surprising ways. Should our prayer before a five pound note be "please, help me to understand myself"?
Producer: Hannah Marshall
A Loftus production for BBC Radio 4.
Last on