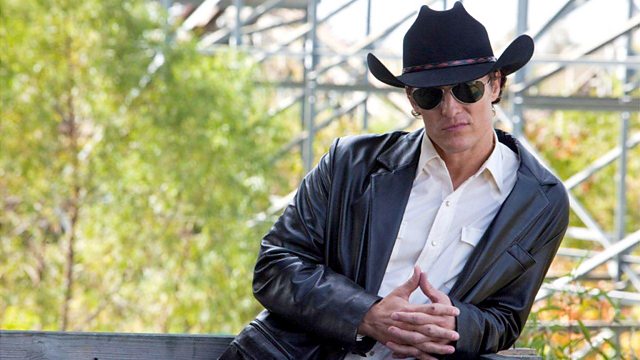 30/06/2012
Listen in pop-out player
Tom Sutcliffe and his guests novelist Liz Jensen, poet Paul Farley and academic and critic Maria Delgado review the week's cultural highlights including Killer Joe.
William Friedkin's film Killer Joe is set in the Texas badlands. Chris (Emile Hirsch) needs some money fast so that he can pay off some local drug dealers - the only way he can see is to have his mother killed and then collect the insurance. So he enlists the services of local policeman and freelance murderer Joe Cooper (Matthew McConaughey).
As part of its contribution to the Cultural Olympiad, the BBC are screening The Hollow Crown - new adaptations of the Shakespeare history plays Richard II, Henry IV pt 1 & 2 and Henry V. The directors involved are Rupert Goold, Richard Eyre and Thea Sharrock and the impressive cast includes Ben Wishaw, Rory Kinnear, Jeremy Irons, Simon Russell Beale and Tom Hiddlestone.
Leaving the Atocha Station is the debut novel by American poet Ben Lerner. It follows the experiences of Adam, a young American poet on a prestigious scholarship in Madrid, where he has gone to learn the language and, notionally at least, to research the Spanish civil war for a forthcoming work.
Edvard Munch: The Modern Eye at Tate Modern in London brings together many of the Norwegian artist's paintings but doesn't feature his most famous work The Scream. It does however include photographs and cine film taken by Munch and makes a case that his interest in early cinema had a direct impact on his paintings.
Dr Dee - Damon Albarn and Rufus Norris's music drama about the Elizabethan polymath and mystic John Dee - had its premiere at the Manchester Festival last year. Reworked and expanded it now comes to ENO in London. A series of tableaux from Dee's life it is possibly the only current stage production in London to feature live ravens.
Producer: Torquil MacLeod.
Last on