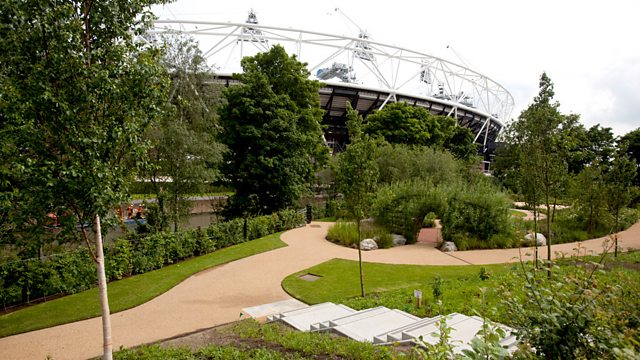 Garden for the Games, Olympic Park, Stratford
Listen in pop-out player
Eric Robson and the panel meet a London audience at the Olympic Aquatic Centre, Stratford.
We revisit the Olympic Park one final time before the doors are thrown open to the public.
Questions answered in the programme:
How can we encourage people to grow plants in their front gardens instead of concreting them over?
What manure should I use for the best homegrown tomatoes?
What tree will establish quickly and resist the harsh conditions on the west coast of Ireland?
Suggestions included: Fir, Native Hawthorn, Birch, Rowan, Poplar
I've got a dwarf spruce, dying from the inside out, what can I do?
How can I maximise the crop yield of vegetables from a 6 meter square plot?
Suggestions included: French beans, courgettes, cut and come again lettuce, parsley, fruit trees, rhubarb, sweetcorn.
Planting suggestions for large tubs, brick planters, and baskets to along a seaside town high street. Suggestions included: Perennial seed mixes, grasses, Steeper Arundinacio, Wolvalarian, Sentranthus, Eupatorium Chocolate, Calendula,
Suggestions for plants that can be planted now to flower in the Olympic colours in a month's time.
Suggestions included: Annual poppies - 'Ladybird', Nigella, Pelargonium (cuttings)
In the Olympic year, what could I plant in 9.85 seconds?
Produced by Howard Shannon
A Somethin' Else production for BBC Radio 4.
Last on