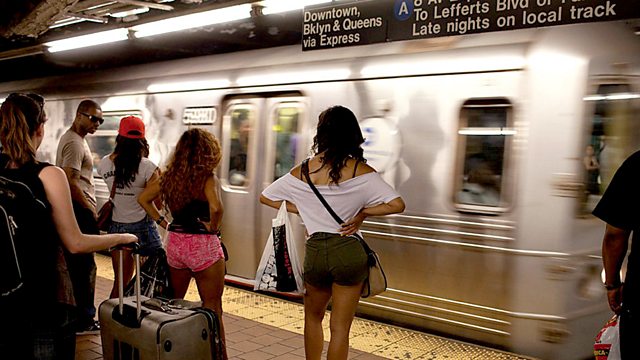 You Must Take the A Train
New Yorker columnist and author Adam Gopnik confesses to 'a perverse love' of his city's subway system. In particular, he likes the two hour run of the A train from the tip of Manhattan to the Atlantic Ocean in the outer borough of Queens.
Along the way he encounters vendors, preachers, rappers, beggars and the homeless passengers who live in the subway cars and in the tunnels.
As a jazz lover, he celebrates Duke Ellington and Billy Strayhorn's song as an anthem of black migration. which imitates the sound of the train and insists:
"You must take the A train
To go to Sugar Hill way up in Harlem."
In 1932 punters queued to take the first A train ride as it went express along the west side of the city. It opened up suburbs, with a fast commute for workers in the Garment District, Times Square and in the offices and restaurants of Midtown. It also linked the dynamic established community of Harlem with the newer black neighbourhoods in Brooklyn.
Gopnik admits to enjoying the graffiti that spread across the subway cars in the seventies and eighties but acknowledges that this was a sign of how New York had lost control. Since most New Yorkers don't own a car and the subway is the artery of a city, that dysfunctional slide was disastrous.
It's only in the last fifteen years that the system has become safe and comparatively pleasant again. For a reporter like Gopnik, it's a perfect way to indulge in people watching and the best subway line to get a real sense of the city. However, depending on your mood, it can either be enervating or profoundly depressing, because it still reveals the seedy, aggressive, desperate and heartbreaking side of New York.
Producer: Judith Kampfner
A Corporation For Independent Media production for BBC Radio 4.