Last on
Today's show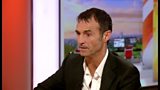 On today's show Marti Pellow was here to talk about his role in a touring production of Blood Brothers and a Wet, Wet, Wet reunion concert.
We also spoke to Tony Hawks about the film of his novel Playing the Moldovans At Tennis.  
We also had a discussion  about the music that should be used in the opening ceremony of The London 2012 Olympics with Daily Mail journalist Angela Epstein and former Smiths drummer, Mike Joyce.