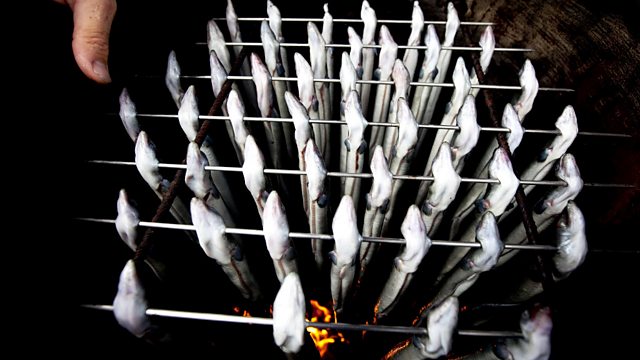 The Odyssey of Eels
A moonlit night on the River Parrett; James Crowden waits with secretive netsmen for the elver run. Each spring these tiny creatures, glass eels, wriggle in their millions out of the Atlantic. No one can afford to eat elvers now; they are bought live for restocking Europe's rivers. James eavesdrops on deals struck behind vans as elvers are sold for hundreds of pounds a kilo.
Those that elude the fishermen, scale the weirs, and escape the herons, grow to maturity in the rivers of England. A decade later, on an autumn night after rain, as silver eels, they begin their return journey to the seaweedy Sargasso sea. What happens next no one knows but no one has ever caught an eel that has spawned, so theymust breed, and die.
James Crowden, Somerset poet, traces their odyssey. Among his informants are Michael Brown of Thorney, who spent 25 years elver dealing and smoking eels. James sees the workings of a smokehouse, its design based on the brick privies European Jews found when they arrived in London's east End.
Brendan Sellick, lives near Hinkley Point Nuclear Power Station.He has been fishing for eels all his life, pushing his 'mud horse', a kind of sledge, out half a mile to the nets at low ride. He remembers glatting: hunting for eels at low tide with dogs.
Andy Don of the Environment Agency displays an ingenious eel pass, allowing the fish to pass obstacles to their migration such as flood barriers - vital as the eel population has plummeted.
At Mick's Eels, near Billingsgate, the whole mystery of jellied eels is revealed - gutting, chopping, boiling - and eating.
'The Odyssey of Eels' is full of water, mud, slime and fire. And full of voices, from west and east, and the past. Eel poems by James Crowden writhe through it. (Repeat)
Producer: Julian May
First broadcast in June 2012.
Last on