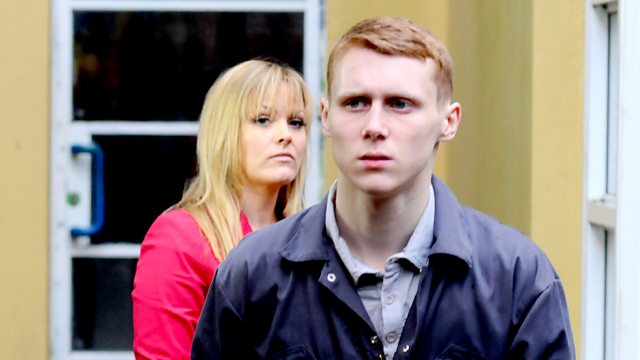 14/06/2012
Tanya reveals she's accepted Abi's Eco-scholarship place. Abi refuses to go and wants the summer with Jay. Tanya spots Abi crying after arguing with Jay. Assuming Abi's told Jay about the scholarship, Tanya pleads with him to let Abi go. Max gives Jay relationship advice. Abi's furious Tanya told Jay about Costa Rica. Tanya thinks Jay should want Abi to get away, and wishes she had her time again. Abi agrees to go. Jay announces he wants to go away together - on honeymoon. Jay produces an engagement ring and proposes.
Roxy wants to help Alfie with the Vic football team. Kat's riled when Anthony and Tyler confirm that Eddie's broke and Derek makes a jibe about Alfie and Roxy. When questioned, Roxy admits to having a crush on Alfie and paying off their debt, but swears Alfie made it clear he belongs to Kat. Kat fires Roxy. Kat insists she help Alfie with the football, producing a customised 'Mrs Moon, Queen Vic' top. Alfie keeps quiet when Kat mentions Eddie's loan.
Jean determines to pay back Eddie's loan, buys numerous scratch cards and gets a job on the flower stall. She loses the job when Michael threatens to cancel the wedding flower order.
Janine hates her wedding make up. Poppy despairs, admitting to Fat Boy she's not a successful nail technician and she's been evicted. Fat Boy suggests Poppy stay with him. Tanya asks Poppy to stay for a while at the salon.
Derek buys chocolates and a dress, picked by Kat, for Alice. He pleads he's trying to change and hopes she'll wear the dress to Janine's wedding. Alice tells Derek she can't see him anymore as her mum found his texts. Despite Joey's warnings about Derek, Alice wants to help him, but rejects the dress – it's awful.
Last on
Credits
| Role | Contributor |
| --- | --- |
| Abi Branning | Lorna Fitzgerald |
| Jay Mitchell | Jamie Borthwick |
| Max Branning | Jake Wood |
| Tanya Jessop | Jo Joyner |
| Poppy Meadow | Rachel Bright |
| Janine Butcher | Charlie Brooks |
| Michael Moon | Steve John Shepherd |
| Jean Slater | Gillian Wright |
| Kat Moon | Jessie Wallace |
| Alfie Moon | Shane Richie |
| Roxy Mitchell | Rita Simons |
| Derek Branning | Jamie Foreman |
| Alice Branning | Jasmyn Banks |
| Jack Branning | Scott Maslen |
| Arthur 'Fat Boy' Chubb | Ricky Norwood |
| Whitney Dean | Shona McGarty |
| Tyler Moon | Tony Discipline |
| Denise Fox | Diane Parish |
| Director | Michael Owen Morris |
| Writer | Perrie Balthazar |