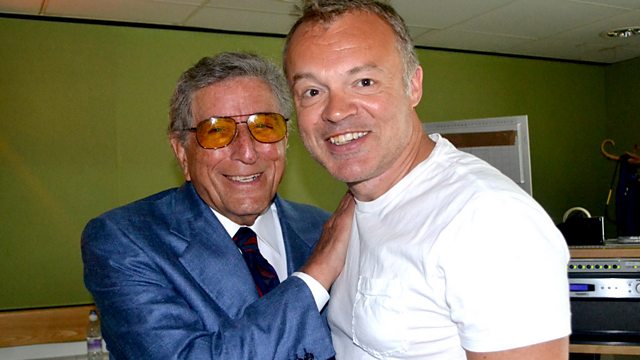 with Noah Wyle and Tony Bennett
This week Verona Morgan in Cardiff chose Lynn Anderson's 'Rose Garden' for 'I Can't Believe It's Not Better' and barrister Miranda Jollie from London is the latest recipient of a set of highly sought after, wipe free 'Tune With A Tale' coasters after talking us through the story contained within Squeeze's 1979 hit 'Up The Junction'... as normal it had an unhappy ending!
In 'Grill Graham', assisted by Maria McErlane after she'd cleaned the toilet, Graham pondered whether Emma in Dublin should try to rekindle a relationship she herself ended because her friends didn't approve and is now regretting her decision. Then there was ANON, who lives somewhere in the UK, and is sick and tired of the constant whining of someone she walks to her child's school with. Should she be direct and tell her to stop moaning, or try to avoid her another way?
Graham's first guest of the day was actor Noah Wyle who used to be in 'ER' and is back on our screens in July in the second series of sci-fi drama 'Falling Skies'. Noah also talked about seeing Bruce Springsteen in concert last night in Manchester, meeting Steve Jobs after portraying him in a film, and explaining how playing a doctor on TV doesn't mean you can do it in real-life.
Legendary singer Tony Bennett dropped by the studio for a chat in the final hour of the show. At the same time as drawing a portrait of Graham, he talked about being discovered by Bob Hope, getting advice from Frank Sinatra and how his latest album 'Duets 2' is also his most successful.
Last on