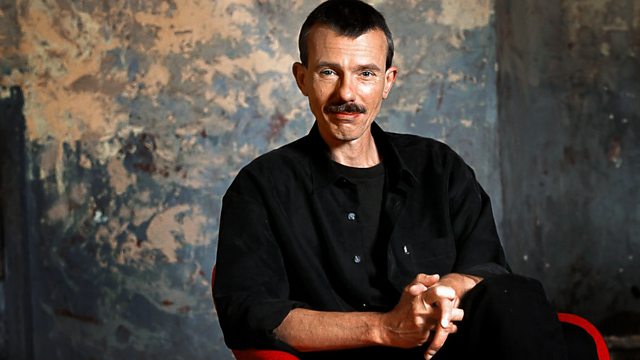 20/06/2012
Jonathan Swain introduces a performance of Verdi's Requiem from the Swedish Radio SO and conductor Daniel Harding and featuring an all-star cast of soloists.
12:31 AM
Verdi, Giuseppe [1813-1901]
Missa da Requiem
Anja Kampe (soprano) Michelle De Young (mezzo soprano) Alexei Dolgov (tenor) Michail Petrenko (bass) Swedish Radio Chorus, Swedish Radio Symphony Orchestra, Daniel Harding (conductor)
2:00 AM
Hummel, Johann Nepomuk (1778-1837)
Rondo brillant for piano and orchestra in A major (Op.56)
Rudolf Macudzinski (piano), Slovak Radio Symphony Orchestra, Ludovít Rajter (conductor)
2:21 AM
Viotti, Giovanni Battista [1755-1824]
Duo concertante in D minor
Alexandar Avramov (violin), Ivan Peev (violin)
2:31 AM
Dvorak, Antonin [1841-1904]
Trio in E minor, "Dumky" (Op.90)
Grieg Trio
3:01 AM
Hacomplaynt, Robert [c.1455-1528]
Salve Regina (a 5)
BBC Singers, Stephen Cleobury (conductor)
3:13 AM
Weber, Carl Maria von [1786-1826]
Konzertstuck in F minor for piano and orchestra (Op.79)
Victoria Postnikova (piano), Oslo Philharmonic Orchestra, Gennadi Rozhdestvensky (conductor)
3:31 AM
Rubio, Jesus Gonzalez [(d.1874)]
Jarabe tapatio (Mexican hat dance)
Giuliano Sommerhalder (trumpet), Roberto Arosio (piano)
3:36 AM
Vivaldi, Antonio [1678-1741]
Concerto da Camera in C major (RV.87)
Camerata Köln
3:44 AM
Castelnuovo-Tedesco, Mario [1895-1968]
Capriccio diabolico for guitar (Op.85)
Goran Listes (guitar)
3:53 AM
Mussorgsky, Modest [1839-1881], arr. Rimsky-Korsakov, Nikolay Andreyevich
A Night on the bare mountain, ed. Rimsky-Korsakov
Radion Sinfoniaorkesteri, Jukka-Pekka Saraste (conductor)
4:05 AM
Scarlatti, Domenico [1685-1757]
Sonata in A major, Kk.208
Ilze Graubina (piano)
4:09 AM
Traditional Catalan, arr. Montsalvatge, Xavier [1912-2002]
El cant dels ocells
Victoria de los Angeles (soprano), Luis Claret (cello), Orquesta Ciudad de Barcelona, Luis Garcia Navarro (conductor)
4:15 AM
Lassus, Orlande de [1532-1594]
Im Mayen
King's Singers
4:18 AM
Lassus, Orlande de [1532-1594]
Tibi laus, tibi gloria
King's Singers
4:21 AM
Ravel, Maurice [1875-1937]
Une Barque sur l'ocean
Trondheim Symphony Orchestra, Eivind Aadland (conductor)
4:31 AM
Haapalainen, Vaino [1893-1945]
Lemminkainen Overture (1925)
Radion Sinfoniaorkesteri, Atso Almila (conductor)
4:39 AM
Weber, Carl Maria von [1786-1826]
Perpetuum mobile (from Sonata No.1 in C, J138)
Konstantin Masliouk (piano)
4:44 AM
Luzzaschi, Luzzasco [c.1545-1607]
O primavera for solo soprano and bc & O dolcezze d'Amore for 3 sopranos & bc
Tragicomedia
4:52 AM
Mozart, Wolfgang Amadeus [1756-1791]
Concerto for Bassoon and Orchestra (K.191) in B flat major
Audun Halvorsen (bassoon), Norwegian Radio Orchestra, Andrew Manze (conductor)
5:11 AM
Liszt, Franz [1811-1886]
Transcription from Mozart's Magic Flute (S.634a)
Gábor Csalog (piano), András Kemenes (piano)
5:15 AM
Haydn, (Franz) Joseph [1732-1809]
String Quartet in D major (Op.64, No.5) (Hob.III.63) "Lark"
Bartók Quartet
5:33 AM
Villa-Lobos, Heitor [1887-1959]
Kyrie and Gloria from 'Missa Sao Sebastiao'
Danish National Girls Choir, Michael Bojesen (conductor)
5:45 AM
Faure, Gabriel [1845-1924]
Sonata no. 2 in G minor Op.117 for cello and piano
Torleif Thedén (cello), Roland Pöntinen (piano)
6:04 AM
Marais, Marin [1656-1728]
La Reveuse (no.28) from Suitte d'un gout etranger
Vittorio Ghielmi (viola da gamba), Luca Pianca (lute)
6:10 AM
Ibert, Jacques [1890-1962]
Concerto for flute and orchestra
Petri Alanko (flute), Radion Sinfoniaorkesteri, Jukka-Pekka Saraste (conductor).
Last on