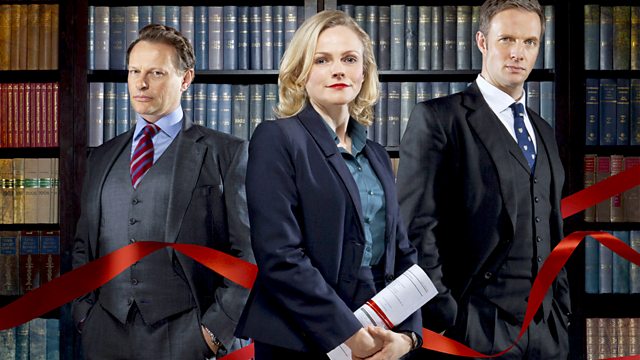 At the Supreme Court, Martha is representing Jackson Henderson in a death row case. Against a ticking clock and with Billy breathing down her neck, Martha faces the toughest legal argument of her career.
Clive increasingly feels that he is not the right barrister for Fatima Ali and, at the risk of losing George, persuades Martha to take the brief, conveniently leaving him free to prosecute Jody Farr.
Martha knows unless Fatima speaks up for herself, the truth will not surface. Just as she thinks the case is lost, Martha is offered a deal with the devil in return for Fatima's freedom.
Last on
Credits
| Role | Contributor |
| --- | --- |
| Director | Jeremy Webb |
| Director | Jeremy Webb |
| Writer | Peter Moffat |
| Writer | Peter Moffat |
| Executive Producer | Peter Moffat |
| Executive Producer | Peter Moffat |
| Martha Costello QC | Maxine Peake |
| Martha Costello QC | Maxine Peake |
| Clive Reader | Rupert Penry-Jones |
| Clive Reader | Rupert Penry-Jones |
| Billy Lamb | Neil Stuke |
| Billy Lamb | Neil Stuke |
| Micky Joy | Phil Davis |
| Micky Joy | Phil Davis |
| Caroline Warwick QC | Frances Barber |
| Caroline Warwick QC | Frances Barber |
| George Duggan | Indira Varma |
| George Duggan | Indira Varma |
| Alan Cowdrey QC | Alex Jennings |
| Alan Cowdrey QC | Alex Jennings |
| Jake Milner | Theo Barklem-Biggs |
| Jake Milner | Theo Barklem-Biggs |
| Daniel Lomas | Shaun Evans |
| Daniel Lomas | Shaun Evans |
| HHJ Maikin | Pip Torrens |
| HHJ Maikin | Pip Torrens |
| Florence Henderson | Natasha Williams |
| Florence Henderson | Natasha Williams |
| Mohammed Ali | Nasser Memarzia |
| Mohammed Ali | Nasser Memarzia |