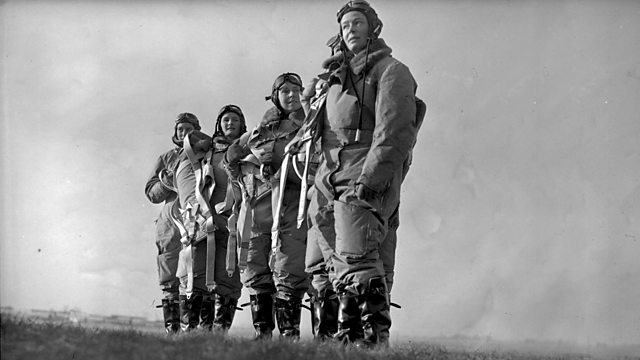 In October 2003 the Antiques Roadshow featured the
flight journals of Joan Allen who had served with the ATA
during the Second World War. But there had been
another intriguing find. Hidden in a metal flight box
under Joan's stairs was another flight journal.
It recorded the solo flight that Joan had undertaken in 1948
in a 2 seater Angus Fairchild aircraft from England to Singapore.
Diane Samuels' 'Tiger Wings' makes a leap of imagination
from this true-life source and gives wing to Joan's remarkable
achievement that might so easily have vanished into the mists
of the past.
Episode Three - Middle East
After an unscheduled stop in gorgeous Cannes, Joan attempts to
make up for time as she crosses the sea to Tunisia.
Last on
Credits
| Role | Contributor |
| --- | --- |
| Wiggs/Mme Carter/Mrs Reed | Tracy Wiles |
| Maud | Christine Absalom |
| Mr McCowan/Hotelier | Patrick Brennan |
| Becky Sharpe/Martha | Susie Riddell |
| Young Woman | Amaka Okafor |
| Young Man/Stevens | Joe Sims |
| Jacques/Cpt Harkness | Sam Alexander |
| SAA Pilot/Jack Roche | Don Gilet |
| Abdul | Peter Singh |
| Shreela/Clemmie Daniels | Deeivya Meir |