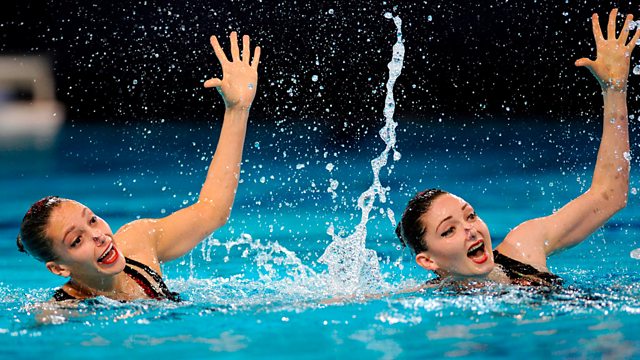 The Synchro Girls
As the British women's synchronized swimming team prepares for its debut in the 2012 Olympics, one time synchro-challenger Katie Derham takes a side-ways look at the sport.
Katie's relationship with synchronised swimming began as a school girl in the 80's around the time the sport gained Olympic Status. As a starring member of the school synchro club she dedicated hours to choreographing routines and designing the sparkly outfits to go with them. 'For a few years synchronised swimming was my greatest passion', she says.
In the wider domain, synchro has often been laughed at for its staid, nose-clip image and its 'grit your teeth and smile' mantra. But the sport has made an extraordinary journey, from the Esther Williams water ballets of the 1950s to its position in the Olympics.
Looking at modern synchro, Katie discovers a competition where girls are required to have the agility of a ballet dancer, the breath control of a free diver and the strength of a gymnast. She also finds that she shares her passion with some unlikely high profile figures, including IMF director Christine Lagarde who was a member of the French national synchronised swimming team as a teenager and who reflects on the lessons it taught her for her future career in politics.
Katie visits Team GB in Aldershot as they prepare for the last weeks of training before their London 2012 debut. She speaks to coaches and choreographers, including former Olympic Gold ice-skating medallist Robin Cousins and Stephan Miermont of Cirque du Soleil. She makes a special journey back to the school where she learnt her first moves and joins the London Gay men's synchronised swimming team, the only all male team in the country.
Producer: Sarah Cuddon
A Whistledown Production for BBC Radio 4.