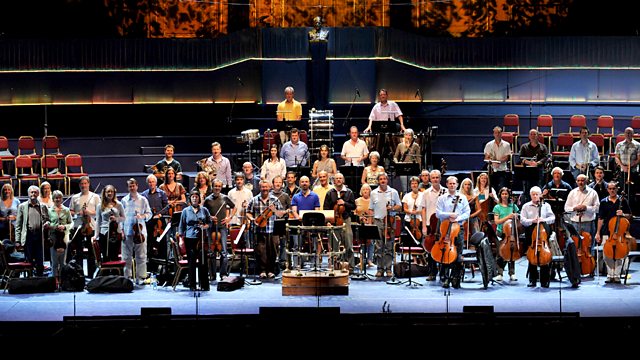 BBC Concert Orchestra - London on Film
Live from the Queen Elizabeth Hall, South Bank Centre, London
Presented by Mark Kermode
As London becomes the focus of the international sporting calendar, film expert Mark Kermode, conductor Robert Ziegler and the BBC Concert Orchestra look at the lasting legacy the capital has had on film. Ian Shaw sings music from Bond to Bacharach; Caroline Jaya Ratnam is the piano soloist in Bernard Herrmann's Hangover Square, and Cynthia Fleming plays solo violin in Howard Shore's score from Eastern Promises.
David Arnold: Bond - Casino Royale suite, main theme
John Barry arr Ziegler: The Ipcress File
Michael Nyman: The End of the Affair
Bernard Hermann: Hangover Square - Concerto Macabre for piano and orchestra
Stephen Sondheim: Johanna (from Sweeney Todd)
Alexandre Desplat : The King's Speech
8.15pm Interval
Composers, fixers, players, studio owners and engineers offer some insights into why big name international producers and composers choose to record their soundtracks in London.
PART 2
Hans Zimmer, arr Ziegler: Sherlock Holmes
David Arnold/Nicholas Dodd: City of Lovers; You Know My Name (from Casino Royale)
Howard Shore: Concertino for violin solo and chamber orchestra (Eastern Promises)
Burt Bacharach: Alfie
Pete Townshend arr Rachel Fuller: Love Reign O'er Me (from Quadrophenia)
BBC Concert Orchestra
Robert Ziegler (conductor).
Last on