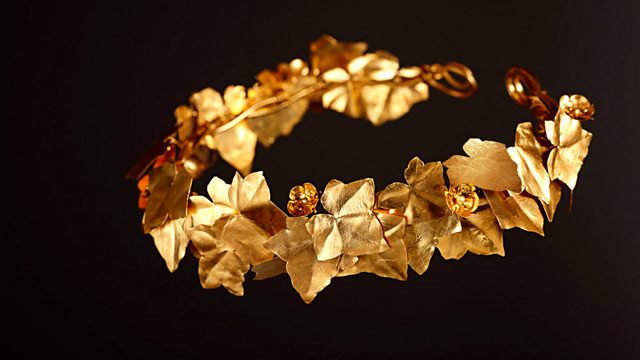 08/06/2012
Listen in pop-out player
Presented by Jenni Murray.
Fruit salad is perfect for summer dining and can be a quick, easy and healthy dish. Chef Paul Heathcote has come up with a tropical fruit salad. He assembles it in studio for Jenni and gives some tips on how to use fresh fruit in a variety of puds. Joining them is the food journalist Oliver Thring to discuss the newest fruit to hit supermarket shelves - the papple.
Because of its colour, rarity and value, gold has been made into the most beautiful jewellery but today it is also found in dentistry, electronics, medicine and food as well as being used as a standard for international currency. A new exhibition this summer at Goldsmith's Hall in London tells the story of Britain's relationship with gold. Polly Gasston has been commissioned to make a piece of gold couture for this exhibition. She joins Jenni to talk about her work as a goldsmith. Also in studio is Joanna Hardy from The Antiques Roadshow.
How do you tell children that they have a serious or terminal illness? Caroline Cheetham has been talking to a couple whose four year old son Jack will not see his 30th Birthday as he has been diagnosed with Duchenne Muscular Dystrophy. Jenni talks to Linda Thompson - a Family Support Officer with the Rainbow Trust - and to Maria whose daughter may only have 6 months to live.
There are 4000 women in prison in this country and two thirds of them have literacy problems. Shannon Trust is a charity which was set up to tackle this problem and they have introduced a reading plan into almost all the prisons in the UK. They train prisoners who can read to teach those who can't. Judy Merry has been to Drake Hall Prison in Staffordshire to see how the Shannon Trust reading plan works there.
Last on