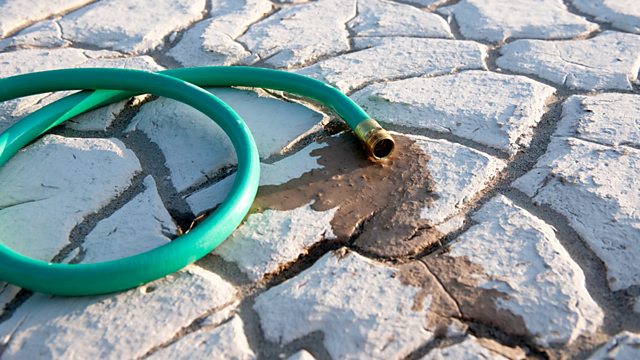 Water for the Future
Listen in pop-out player
Last month, forty flood warnings were issued across England while hosepipe bans remained in place due to water shortages. Drought restrictions imposed by seven water companies may soon be lifted but in a special programme, You & Yours asks why we run short of water and what we should do to ensure that we have enough in future.
Winifred Robinson examines the role of the water companies, looking at who supplies our water in different parts of the UK. She asks if the water shortage is just down to the drought or whether water companies could do more to conserve water by for example fixing leaks.
It has been suggested that Wales, which has an abundance of water, could trade with drought hit parts of England. Welsh Water explain how water trading might work in practice and whether this is a realistic option.
How can the buildings we live and work in prevent drought and flood? Fran Bradshaw from Anne Thorne Architects and Cath Hassell from Ech2o Consultants explain how we can conserve water by designing for drought.
People with water meters use ten to fifteen per cent less water and, in some parts of the UK, water meters are becoming compulsory. Dr Tim Leunig outlines how a system in place in Western Australia, where you pay a penalty for excessive water use, could be the fairest way to charge.
Lincolnshire is still in drought but farmers and businesses have found innovative solutions to the shortage by recycling water from industry and building mini reservoirs. We also hear from a couple in Kent who will never pay another water bill after they drilled their own borehole to supply their property with water.
Presented by Winifred Robinson
Produced by Olivia Skinner.
Last on