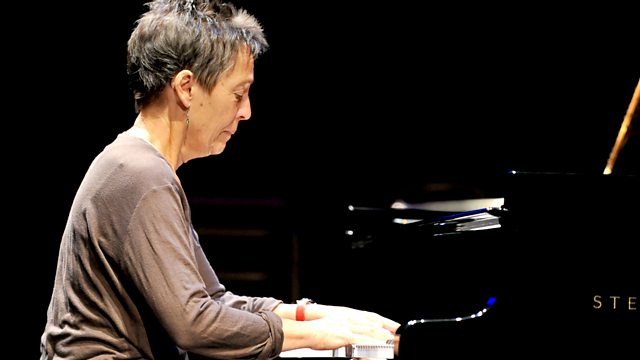 03/06/2012
From 2011 BBC Proms, Maria Joao Pires plays Mozart Piano Concerto No.27 with Tonhalle Orchestra Zurich and David Zinman, who also perform Beethoven's Eroica Symphony.
1:01 AM
Mozart, Wolfgang Amadeus [1756-1791]
Concerto for piano and orchestra no. 27 (K.595) in B flat major
Maria João Pires (piano), Tonhalle Orchestra Zurich, David Zinman (conductor)
1:31 AM
Beethoven, Ludwig van [1770 -1827]
Symphony no. 3 (Op.55) in E flat major "Eroica"
Tonhalle Orchestra Zurich, David Zinman (conductor)
2:18 AM
Brahms, Johannes [1833-1897]
Sextet for strings no. 2 (Op.36) in G major
Aronowitz Ensemble (ensemble)
3:01 AM
Mendelssohn, Felix (1809-1847)
String Octet (Op.20) in E flat major
Yoshiko Arai & Ik-Hwan Bae (violins), Yuko Inoue (viola), Christoph Richter (cello), Vogler Quartet
3:33 AM
Telemann, Georg Philipp (1681-1767)
Suite in E minor
Douglas Mackie and Jane Dickie (flutes), Barbara Jane Gilbey and Imogen Lidgett (solo violins), Sue-Ellen Paulsen (cello), Tasmanian Symphony Orchestra, Geoffrey Lancaster (conductor/harpsichord)
4:06 AM
Alkan, Charles-Valentin (1813-1888)
Le Festin d'Esope (Op.39 no.12 in E minor, from '12 studies' Op.39)
Johan Ullén (piano)
4:16 AM
Butterworth, Arthur (b. 1923)
Romanza for horn and strings (1954)
Martin Hackleman (horn), CBC Vancouver Orchestra, Mario Bernardi (conductor)
4:26 AM
Schumann, Robert (1810-1856)
Genoveva, overture (Op.81)
Orchestre Nationale de France, Heinz Wallberg (conductor)
4:36 AM
Ravel, Maurice (1875-1937)
Tzigane - rapsodie de concert for violin and piano
Vilmos Szabadi (violin), Márta Gulyás (piano)
4:46 AM
Hellendaal, Pieter (1721-1799)
Concerto grosso for strings and continuo in F major (Op.3 No.6)
Combattimento Consort Amsterdam
5:01 AM
Donizetti, Gaetano (1797-1848)
Overture to La Fille du régiment
Oslo Philharmonic, Nello Santi (conductor)
5:10 AM
Cozzolani, Suor Chiara Margarita (1602-c.1677)
Laudate pueri - psalm for 8 voices
Cappella Artemisia, Maria Christina Cleary (harp), Francesca Torelli (theorbo), Bettina Hoffmann (gamba), Miranda Aureli (organ), Candace Smith (director)
5:19 AM
Chausson, Ernest (1855-1899)
Pavane & Forlane - from 'Quelques Danses' (Op.26)
Bengt Ake-Lundin (piano)
5:29 AM
Geminiani, Francesco (1687-1762)
Concerto Grosso in G minor
Academy of Ancient Music, Andrew Manze (director/violin)
5:37 AM
Schubert, Franz (1797-1828)
Der Hirt auf dem Felsen (Op.129)
Barbara Hendricks (soprano), Leif Ove Andsnes (piano), Martin Fröst (clarinet)
5:49 AM
Mozetich, Marjan (b. 1948)
Postcards from the Sky' - for string orchestra
CBC Vancouver Orchestra, Mario Bernardi (conductor)
6:02 AM
Beethoven, Ludwig van (1770-1827)
Sonata for piano and violin No.4 in A minor (Op.23) (1801)
Mats Zetterqvist (violin), Mats Widlund (piano)
6:19 AM
Haydn, Joseph (1732-1809)
Oboe Concerto in C Major (Hob.VIIg:C1)
Bozo Rogelja (oboe), Slovenian Radio & Television Symphony Orchestra, Samo Hubad (conductor)
6:44 AM
Bach, Johann Sebastian (1685-1750)
Concerto in D minor for 2 violins, strings and basso continuo (BWV.1043)
Nicolas Mazzoleni and Lidewij van der Voort (violins), European Union Baroque Orchestra, Roy Goodman (director).
Last on