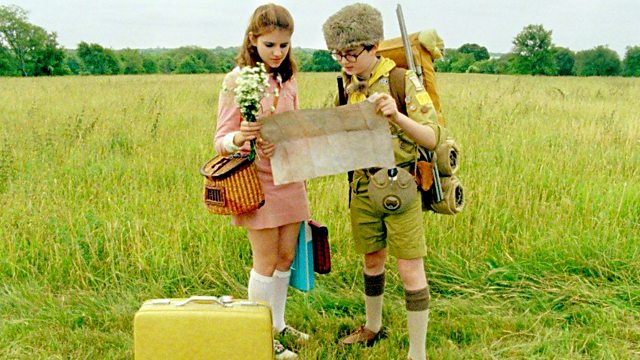 26/05/2012
Listen in pop-out player
Tom Sutcliffe and his guests novelists Lionel Shriver and Andrew O' Hagan and theatre writer David Benedict review the week's cultural highlights including Moonrise Kingdom.
Wes Anderson's film Moonrise Kingdom is set on a remote New England island and features two precocious 12 year olds - Sam and Suzy (Jared Gilman and Kara Hayward) - who run away from scout camp and home respectively to be with each other. The film also stars Bill Murray and Frances McDormand as Suzy's parents, Bruce Willis as the island's police chief and Edward Norton as the scout leader.
The Deadman's Pedal - like most of Alan Warner's novels - is set in Oban on the west coast of Scotland. It's 1973 and 15 year old Simon Crimmons has broken up from school for the summer and doesn't intend to go back. Over the course of the next year he loses his virginity, gets a job as a trainee train driver and meets the mysteriously bohemian son and daughter of the local laird.
Right-wing think tank The New Culture Forum has published Igor Toronyi-Lalic's report What's That Thing? which suggests that the recent proliferation of public art in the UK and the way in which it is commissioned has resulted in many mediocre pieces cluttering up the built environment. The solutions that Toronyi-Lalic puts forward include reducing the amount of public art that is commissioned and decommissioning the art that has demonstrably failed.
Matthew Dunster's play Children's Children, which has opened at the Almeida Theatre in London, focuses on the changing fortunes of TV star Michael Stewart (Darrell D'Silva) and his old actor friends Gordon (Trevor Fox) and Sally (Sally Rogers). Michael's fame and fortune come to an abrupt end shortly after he lends Gordon a substantial sum of money.
Universe of Sound is an installation at the Science Museum in London which allows visitors to wander around the members of the Philharmonia Orchestra - conducted by Esa-Pekka Salonen - while they perform The Planets by Holst. The different sections of the orchestra are projected onto screens in separate areas where live musicians also periodically play along. There is also the opportunity to conduct the orchestra in interactive booths.
Producer: Torquil MacLeod.
Last on