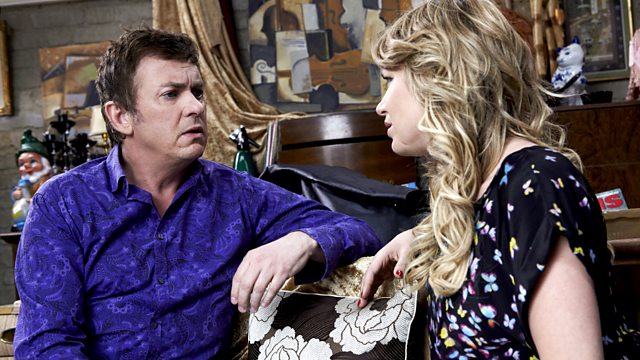 21/05/2012
Lucy dismayed, she's in the middle of her exams and Ian's put the house on the market. He's got a register office cancellation on Friday and insists they'll all be moving on after the wedding. Lucy mentions Ben, but Ian insists he isn't part of the family. Lucy tells Phil and Ben Ian's acting weirdly. Ian frantically prepares for the wedding, Mandy's unsure about it so Ian sends her to buy her dream wedding dress. Phil commands Ian to act normally. Janine confronts Ian about his loan. Over dinner, Lucy calls Mandy a pale imitation of her mother. Ian snaps, Cindy was a lying, cheating murderous slapper and Lucy's sometimes scarily like her. Returning home with Bobby, Lucy cancels the register office, before smashing Ian's Billy Idol record; she'll do whatever it takes.
Opening Alfie's credit card statement, Jean realises he's got serious money worries and decides to find a job. Michael attempts to dissuade her from taking up Billy's offer of an interview at Butcher's Joints.
Michael notes the attraction between Roxy and Alfie. Roxy overhears Alfie quarrelling with Kat on the phone. He admits he misses Kat, but the Slaters' have pulled together and he'll never be one of them. Alfie rejects Roxy's suggestion she move out and asks her out for dinner. Christian's disapproving, but Roxy insistent there's something between them. Roxy's disappointed when Alfie stands her up, he's gone to Kat after Jean assured him Kat needs him.
Kim tries to make amends to Ray and Sasha. She offers to help Sasha practice for her dance recital but is horrified by Sasha's ineptitude.
With Derek staking his claim as top dog in the house, Whitney and Tyler decide to create their own territory moving a sofa into Pat's old room. Derek's left downstairs, alone, and considers calling Alice.
Last on
Credits
| Role | Contributor |
| --- | --- |
| Lucy Beale | Hetti Bywater |
| Ian Beale | Adam Woodyatt |
| Mandy Salter | Nicola Stapleton |
| Bobby Beale | Alex Francis |
| Ben Mitchell | Joshua Pascoe |
| Phil Mitchell | Steve McFadden |
| Billy Mitchell | Perry Fenwick |
| Roxy Mitchell | Rita Simons |
| Alfie Moon | Shane Richie |
| Anthony Moon | Matt Lapinskas |
| Tyler Moon | Tony Discipline |
| Michael Moon | Steve John Shepherd |
| Janine Butcher | Charlie Brooks |
| Jean Slater | Gillian Wright |
| Mo Harris | Laila Morse |
| Whitney Dean | Shona McGarty |
| Lauren Branning | Jacqueline Jossa |
| Kim Fox | Tameka Empson |
| Christian Clarke | John Partridge |
| Derek Branning | Jamie Foreman |
| Arthur 'Fat Boy' Chubb | Ricky Norwood |
| Ray Dixon | Chucky Venn |
| Sasha Dixon | Rebecca Sanneh |
| Executive Producer | Bryan Kirkwood |
| Director | Ian White |
| Writer | Patrick Homes |
| Afia Masood | Meryl Fernandes |
| Estate Agent | David Bonnick Jr |