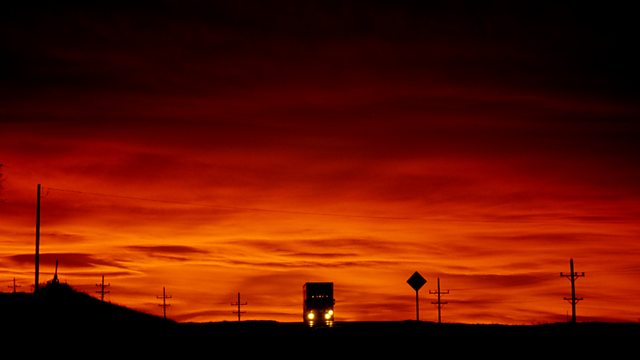 02/06/2012
Susan Sharpe presents a recital of early organ music Lübeck, Frescobaldi and Pasquini. Performed by Andrea Marcon and recorded at the 2009 Ansbach Bach Week.
1:01 AM
Lübeck, Vincent (1654-1740)
Prelude in D minor
Andrea Marcon (organ)
1:10 AM
Frescobaldi, Girolamo (1583-1643)
Canzon III; Toccata IV 'per l'Elevazione'
Andrea Marcon (organ)
1:21 AM
Bernardo Storace (fl.1664)
Ballo della battaglia for keyboard; Ricercar on a theme by Frescobaldi; Balletto
Andrea Marcon (organ)
1:34 AM
Pasquini, Bernardo (1637-1710)
Variazioni capricciose for keyboard
Andrea Marcon (organ)
1:41 AM
Szollosy, András (b. 1921)
Miserere (Psalmus L) à 6 voci
The King's Singers
1:57 AM
Scarlatti, Domenico (1685-1757)
Sonata (Kk.328) in G major
Andrea Marcon (organ)
2:00 AM
Handel, Georg Frideric (1685-1759)
Concerto for organ and orchestra no. 10 (Op.7'4) in D minor
Andrea Marcon (organ), Members of the Venice Baroque Orchestra
2:20 AM
Bach, Johann Sebastian (1685-1750)
Prelude and fugue for organ (BWV.543) in A minor
Andrea Marcon (organ)
2:31 AM
Busoni, Ferrucio (1866-1924)
Suite No.2 for orchestra (Op.34a)
Finnish Radio Symphony Orchestra, Esa-Pekka Salonen (conductor)
3:01 AM
Bach, Carl Philipp Emanuel (1714-1788)
Concerto for flute and orchestra in G major (Wq.169)
Tom Ottar Andreassen (flute), Norwegian Radio Orchestra, Roy Goodman (conductor)
3:25 AM
Sasnauskas, Ceslovas (1867-1916)
Requiem
Inesa Linaburgyte (mezzo-soprano); Algirdas Janutas (tenor), Vladimiras Prudnikovas (bass); Kaunas State Choir, Lithuanian National Symphony Orchestra, Petras Bingelis (conductor)
4:00 AM
Granados, Enrique (1867-1916)
Quejas o la maja y el ruisenor (The Maiden and the Nightingale) - from Goyescas
Angela Hewitt (piano)
4:06 AM
Bacewicz, Grazyna (1909-1969)
Suite for chamber orchestra
Polish Radio Symphony Orchestra, Jan Krenz (conductor)
4:14 AM
Fauré, Gabriel (1845-1924)
Elegy for cello and piano (Op.24)
Tsuyoshi Tsutsumi (cello), Emmanuel Strosser (piano)
4:21 AM
Auric, Georges (1899-1983) arranged by Philip Lane
Suite from 'The Lavender Hill Mob'
BBC Philharmonic, Rumon Gamba (conductor)
4:29 AM
Grandjany, Marcel (1891-1975)
Rhapsodie pour la harpe (Op.10) (1921)
Rita Costanzi (harp)
4:39 AM
Brahms, Johannes (1833-1897)
4 Gesänge (Op.32)
Ruud van der Meer (baritone), Rudolf Jansen (piano)
4:49 AM
Durante, Francesco (1684-1755)
Concerto per quartetto for strings No.3 in E flat major
Concerto Köln
5:01 AM
Rimsky-Korsakov, Nikolai (1844-1908)
May Night: overture
Calgary Philharmonic Orchestra, Mario Bernardi (conductor)
5:09 AM
Chopin, Frédéric (1810-1849)
Scherzo for piano No.4 (Op.54) in E major
Simon Trpceski (piano)
5:21 AM
Schuyt, Cornelis (1557-1616)
Voi bramate, ben mio
Netherlands Chamber Choir, Paul van Nevel (conductor)
5:25 AM
Martinu, Bohuslav (1890-1959)
Tango-Lento from 'La revue de Cuisine' (1930)
Timothy Lines (clarinet), Mihaela Martin (violin), Frans Helmerson (cello), Gustavo Núñez (bassoon), Peter Masseurs (trumpet), Vassily Lobanov (piano)
5:31 AM
Mendelssohn, Felix (1809-1847)
Hebrides - overture (Op.26)
Norwegian Radio Orchestra, Markus Lehtinen (conductor)
5:42 AM
Dvorák, Antonín (1841-1904)
String Quartet No.12 in F Major 'American' (Op.96)
Keller Quartet
6:07 AM
Brahms, Johannes (1833-1897)
Warum ist das Licht gegeben dem Muhseligen (Op.74)
Grex Vocalis, Carl Hogset (director)
6:13 AM
Locatelli, Pietro Antonio (1695-1764)
Concerto in E flat (Op.7 No.6), 'Il pianto d'Ariana'
Amsterdam Bach Soloists
6:29 AM
Piazzolla, Ástor Pantaleón (1921-1992)
Le Grand Tango
Musica Camerata Montréal
6:40 AM
Bach, Johann Sebastian (1685-1750)
Fantasia in A minor (BWV.922)
Andreas Staier (harpsichord)
6:47 AM
Copland, Aaron (1900-1990)
El Salón México
San Francisco Symphony Orchestra, Michael Tilson Thomas (conductor).
Last on