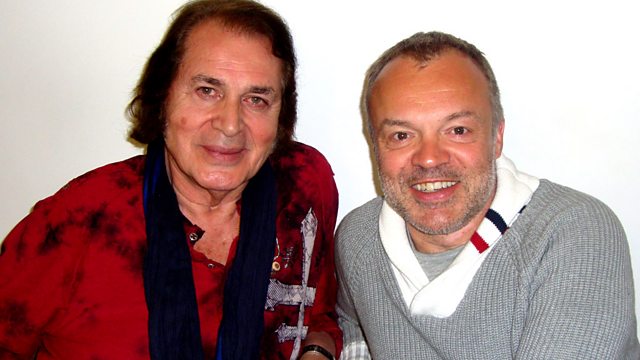 with Engelbert Humperdinck, Matthew Bourne and Marcus Collins
This week Graham was live from Baku in Azerbaijan ahead of the Eurovision song contest. Rather than a cosy radio studio like last year in Dusseldorf, it was a case of broadcasting from a windy car park next to the Crystal Hall with a table, a chair, a microphone, headphones and some sun tan lotion!
In 'Grill Graham', Nathan in Tonbridge was worried that he was spending too much time messaging girls on an online dating website and 31 year old Lucie in Crewe wondered whether she should move out of the family home now that she can afford to rent her own flat.
Graham's first guest of the day was this year's UK hopeful for Eurovision Engelbert Humperdinck, who spoke about performing first on the night, how he once performed at an Olympic Games and how his greatest hits have just been re-released. Then acclaimed choreographer Matthew Bourne chatted about his production of 'Swan Lake' which has been filmed in 3D and can be seen in cinemas across the UK. He also talked about his latest stage production 'Early Adventures' which is touring until the end of June. When asked who he thought the greatest dancer of all time was, he chose Fred Astaire, and it transpired that Graham went to school with his grandson!
For this week's 'Tune With A Tale', Celine Dunne in London chose Johnny Logan's 'What's Another Year' which won Eurovision back in 1980. As well as explaining that the song is sad - as are most Tune With A Tales - she talked about running a school for international students teaching them languages.
After 12, singer Marcus Collins came in and talked about coming second in last year's X-Factor, how he recorded his debut album in double quick time, his ongoing friendship with his mentor Gary Barlow and how he'd love to record a duet with Sam Sparro.
Last on