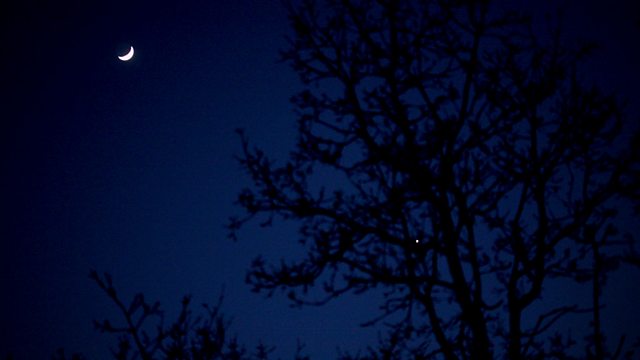 Darkness
In Something Understood this week, poet and broadcaster Stewart Henderson celebrates the power of true darkness. With streetlamps dominating our modern industrialised world, few people in Britain now have the chance to experience real darkness, but Stewart believes it can have a transformative effect.
Some people fear darkness, others find it disorienting and confusing. These days, we fill our world with electric light and it's only in the deepest countryside that we find true darkness. Yet when we do immerse ourselves in the dark, it can bring another form of illumination, heightening our physical senses and our sense of self. Our surroundings take on new meaning and significance. And the darkness can be inspirational - as Vincent Van Gogh wrote to his brother Theo in 1888, 'I often think that the night is more alive and more richly coloured than the day'. Other readings come from astronauts, scientists and pilots, all of whom have embraced the dark and found riches and depth within it.
Stewart speaks to Marek Kukula, Public Astronomer at the Royal Observatory, Greenwich. As a child he was fascinated by the natural world, and now his job is to explain the latest discoveries in space to the public. Darkness is essential to Marek's work, but it also has a spiritual dimension for him. As someone who seeks out dark places from which to see the stars, he regrets the light pollution which is driving true darkness out of many places. Marek is a supporter of the International Dark Sky Association which aims to identify and protect those places which still enjoy truly dark skies. Without darkness to heighten our awareness, are we left with a loss of inner sight?
Producer: Jo Coombs
A Loftus production for BBC Radio 4.
Last on