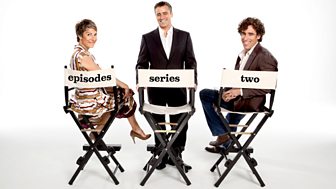 Series 2
Bev and Sean are successful British writers with a dream to break America before it breaks them, but unfortunately it seems they haven't accounted for one thing: Matt LeBlanc
On iPlayer
This programme is not currently available on BBC iPlayer
On TV
There are no upcoming broadcasts of this programme
Last on
Sun 8 Jul 2012 23:35
BBC HD
About Series 2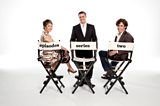 The second series picks up four months after the end of the first. Sean and Beverly's marriage has been blown apart by Beverly's fling with Matt, and Matt's friendship with Sean appears to be beyond salvage. But as their sitcom "Pucks!" is about to premiere, all three are forced to find a way to continue working together.
As the series progresses, we are plunged deeper into the twisted world of making television. It's a portrait gallery of megalomaniac network executives, surgically-enhanced actresses and naked stalkers who appear unexpectedly in your kitchen. Through it all, Sean and Beverly struggle to rediscover the love they had when they started their American adventure, while Matt struggles to reclaim the stardom that was once his.
Matt says: "When the second season starts, we are all doing our best to navigate this awkward love triangle. "People ask which Matt is the real me, but the writers will take a seed from my real life and grow it into an idea. I don't mind if people think Matt LeBlanc on screen is the real me because it means we have done a great job of creating a believable character."