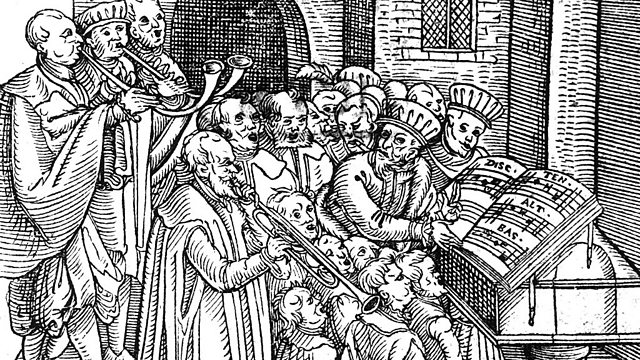 For as long as we've had church music itself a Chapel Royal has been serving the musical and spiritual needs of British monarchs. Scarcely a single British composer of note for centuries failed to be associated with it. Byrd, Purcell, Handel, Gibbons, Locke, even Sir Arthur Sullivan of G&S fame all gave their best to adorn state occasions and royal worship, right up to the recent wedding of William and Kate.
This week, Donald Macleod takes five snapshots of the Chapel's itinerant musicians, following their fortunes as they navigate a perilous route from monarch to monarch. Often their careers prosper, with grand masques for Queen Elizabeth I and battlefield triumphs under Henry V. But there are periods of near collapse too, most notably the years of the Civil War which almost finished the Chapel for good. And we hear the written testimonies of many who gave their best years to the choir, most of them thankful for the education it gave them but also some with dark memories of bullying amongst the ranks.
We begin in 1520, and a royal 'G2' long before the G10 was ever invented. Henry VIII is in France for the signing of a royal treaty. No expense is spared as a 'porta-palace' is constructed complete with a fountain gushing with claret. It's an occasion when his chapel musicians must show what they are made of.
Last on
More episodes
Previous
You are at the first episode