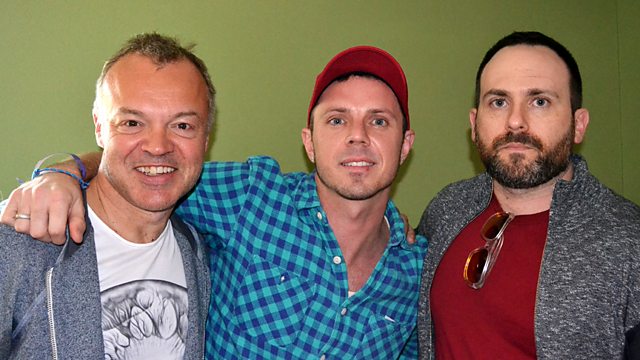 with Rupert Penry-Jones and Scissor Sisters
After successfully condensing his show into one hour for 2DAY on Thursday, Graham was back with a full three hours of aural pleasure...
With Eurovision just weeks away, this week's 'I Can't Believe It's Not Better' was the 1982 UK entry, 'One Step Further' by Bardo, which made No. 2 on the charts. It was a popular choice and there were even cries for "more Bardo!"... seriously, there were.
This week's 'Grill Graham' saw Norton and McErlane trying to help Chris in Hull who, even though she's doing well in her job, she's worried that she has no friends at work. And then 'someone in Dublin' was concerned for their sister who has a serious anger problem.
Actor Rupert Penry-Jones was the first guest of the day. He talked about the new series of 'Silk', in which he stars opposite Maxine Peake, his dramatic exit from 'Spooks', how he would love to play Simon Templar and how he doubts he'll ever be James Bond.
Harvey Courcha from Waltham Abbey, who used to be a catalogue model, chose a little known Roy Orbison b-side for 'Tune With A Tale' called 'The Actress', which tells the story of a man who is deeply in love with a woman, but knows she doesn't feel the same and is only hanging around until someone better comes along...how sad.
And after 12, Jake Shears and Babydaddy from The Scissor Sisters dropped by to talk about their latest single 'Only The Horses' and their forthcoming album 'Magic Hour'. They also talked about their early years in New York and how they swiftly wrote and recorded the album, which has more than a whiff of Bee Gees about it. And then, they gave us a world exclusive first play of the future single, 'Baby Come Home'.
Last on