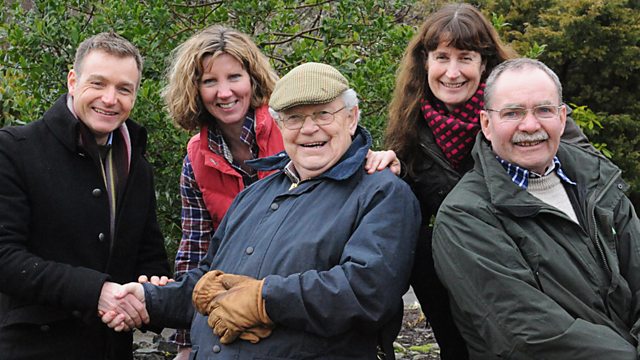 Jim does love his traditional flowers, and this week he is planting out his cordon trained sweet peas to encourage them to have straight, sentinel-like stems and huge blooms, as well as starting off a range of new chrysanthemums.
Carole and Lesley start off their annual tattie-growing battle on the decking, where they both try new methods of growing tatties in containers and compete to see who manages to grow the most. Also on the deck, a range of high rise veg in pots and containers demonstrate that you can have a productive garden no matter how small your space. Carole and Lesley also try out new range of beautiful trumpet-shaped hardy amaryllis in pots on the deck to see if they really are hardy in Scotland.
Jim visits Cornhill School in Aberdeen, where the enthusiastic pupils have a number of problems for Jim to solve and to make their school garden welcoming, pretty and productive.
Carole is in the lovely coastal town of North Berwick for their Tulip Festival. North Berwick has won many awards in both Beautiful Scotland and Britain In Bloom for its floral displays. Over the years, East Lothian Council has planted a million bulbs in the town, and North Berwick in Bloom and the Rotary Club add to the display every year. For 2012, more than 2,000 tulip bulbs have been planted in beds and planters around the town. There are examples of all 15 divisions of the tulip genus represented, planted in tubs and barrels around the town, starting at the railway station, along the High Street, outside the police station, golf club, pubs and even the chip shop. Carole takes a tour of the town and its tulips.
Last on
Credits
| Role | Contributor |
| --- | --- |
| Producer | Gwyneth Hardy |
| Presenter | Jim McColl |
| Presenter | Carole Baxter |
| Presenter | Lesley Watson |