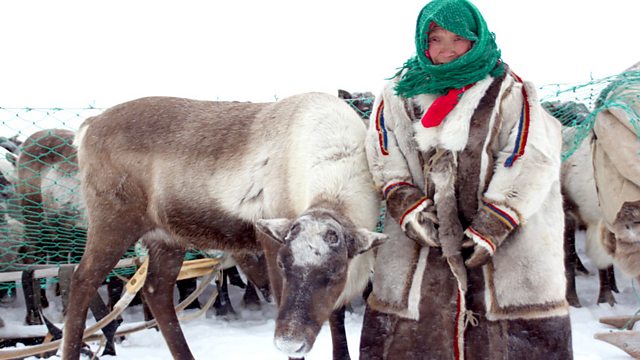 Russia's New Energy Frontier
Listen in pop-out player
Lucy Ash visits Russia's new energy frontier in the Arctic Yamal region and explores the impact oil and gas extraction is having on the indigenous people there.
Gradually but inexorably, reindeer give way to railroads and gas rigs. She goes to stay with a family of herders near the base of the Yamal Peninsula, whose name in the local Nenets language means "the end of the earth." Yamal is home to the largest single area of reindeer husbandry in the world and unlike many indigenous people of the north in Canada, the USA and other parts of Russia, the Nenets herders have proved remarkably resilient. They survived both collectivisation in Soviet times and the chaos of the transition to a market economy in the 1990s. But now there is a new threat as Vladimir Putin has vowed to "turn Yamal into the new oil and gas province of Russia."
Lucy's host in the tundra, Nikolai Khudi, is philosophical about the changing world around him and wary of criticising the state monopoly Gazprom. The flow of oil and gas revenue to the region has brought social benefits such as decent schools and hospitals. Many nomads have willingly given up their traditional lives, and even those who've remained on the tundra now enjoy snow mobiles, satellite dishes and mobile phones. But Nikolai's brother Yevgeny worries their way of life is endangered and that fish may soon disappear from lakes and rivers because of the drilling.
But Moscow is determined to exploit the treasures under the permafrost. The president elect is heavily dependent on hydrocarbons and is counting on them to fulfil recent campaign promises. At the current levels of price and consumption, the natural gas reserves in Russia's Arctic region, would generate enough fuel to feed Europe for around 75 years, with a total value of almost $17 trillion. The fate of this frozen territory thousands of miles from the Kremlin speaks volumes about the Russian state both past and present.
Last on