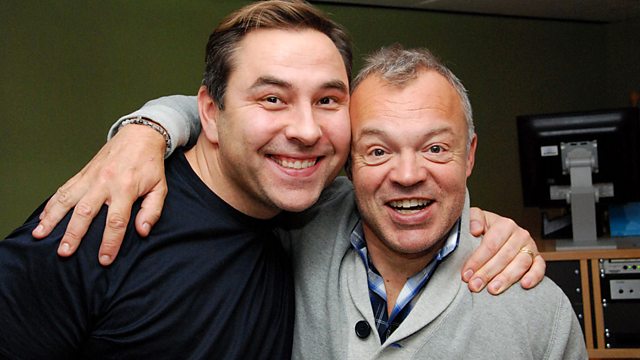 Sandi Toksvig and David Walliams join Graham
How can three hours be so long but go so fast? Time flies when you're listening to Graham Norton on Radio 2 we guess!
Jill Bateman from Chichester chose the dreadful disc in this week's 'I Can't Believe It's Not Better' - The Bay City Rollers 'Bye Bye Baby'. And all we can say is 'Bye Bye Bateman', don't darken our door again..
In the latest edition of 'Grill Graham' Norton & McErlane tried to help Charles (not his real name) who wanted to give his daughter a cheap wedding in case the marriage didn't last, and offered advice to Davina, who was being driven mad by a crooning work colleague.
Comedienne-turned-TV executive Sandi Toksvig was Graham's first guest and chatted about the new Sky Arts 'Playhouse' series; collaborating with Stephen Fry and about being confronted by Tom Jones in the world's smallest dressing gown.
'Tune With A Tale' this week came from Tracey Howe in Devon, and she gave us her interpretation of Madonna's 'Masterpiece', a song she thinks is about a woman admiring an unrequited love from afar.
And David Walliams dropped in after 12 o'clock to talk about 'Britain's Got Talent', but ended up admitting his love for The Voice. He also described Tom Jones as a big chocolate bar, claimed that kids will love the idea of a 'rat-burger' and revealed the time Simon Cowell tore a strip off him.
Last on