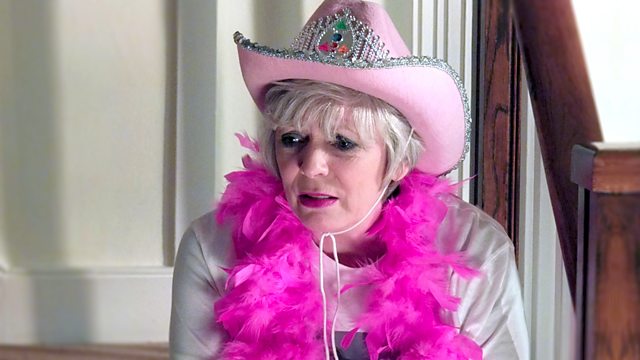 Alison Steadman, Richard Wilson, Marcus Du Sautoy and John O'Farrell
I Don't Believe It! Clive has One Foot In The Grave with actor Richard Wilson who, for ten years, played the archetypal grumpy old man and deadpan pensioner Victor Meldrew. Richard's new Radio 4 series is the hilarious, bizarre and revealing radiography of his fictional life story. 'Believe It!' starts on Wednesday morning 9th May at 11.30 on BBC Radio 4.
Clive talks to the Spitting Image of script writer, broadcaster and author John O'Farrell about his career writing for such great comedies as 'Alas Smith And Jones' and 'Have I Got News For You'. John's latest novel 'The Man Who Forgot His Wife' is the poignant story of a man who suddenly loses his memory - and his Mrs!
Nikki Bedi will be crunching the numbers with mathematician and would-be conductor Professor Marcus Du Sautoy, who competes in BBC Two's 'Maestro at the Opera' to master the ultimate art form. 'Maestro at the Opera' is on Fridays at 21.00.
Clive's invited actress Alison Steadman to the party to talk about her varied career playing such gems as the houseproud, Demis Roussos-loving Beverley in Mike Leigh's 'Abigail's Party' and Gavin's mildly hysterical mum Pam in 'Gavin & Stacey'. Alison's new BBC Four comedy is the monologue of a mother preparing for for her daughter's civil partnership. 'A Civil Arrangement' in on Sunday 6th May at 21.00.
With music from London based psychedelic quartet and hot new things Django Django. They'll perform 'Love's Dart' from their debut self-titled album.
And from the talented and unforgettable singer, composer and producer Eska, who performs 'To Be Remembered'.
Producer Cathie Mahoney.
Last on
Listen to Loose Ends anytime, anywhere.