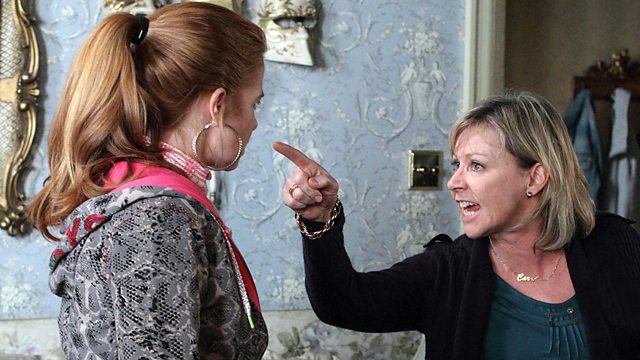 26/04/2012
Returning from visiting Penny, Jack notes that Derek's birthday card to son Joey has been returned unopened. Tiffany and Morgan are at home 'ill', Bianca demands Carol look after them. Carol asks Derek to look at the ceiling. Derek finds the kids playing with the kitten and suggests they call it Joey. Later, a man arrives to check the electricity meter and discovers the dodgy key. Bianca feigns innocence and is let off with a warning. Bianca's unimpressed with Derek's bodge job on the ceiling. Galvanised into action by Jack, Derek makes Alfie drive him to Joey's flat. He asks Alfie to give Joey his grandfather's watch and convince Joey to see him and is disappointed when Alfie's unsuccessful. A debt collector visits Bianca who claims she's the babysitter. Carol and Bianca argue and the row escalates until Carol insists having Bianca ruined her life. Bianca tells Carol to pack her things; Carol says she'll be gone by the morning.
Whitney reads, then panics and deletes, an innocent text from Lucy on Tyler's phone. Lucy realises what Whitney's done and proves it to Tyler. Whitney wants Tyler to delete the other girls on his phone, he thinks she should trust him.
Jay helps get the stock car started, Ben wants to surprise Phil. Phil seems proud to see Ben driving around the Square. However, in private, Phil rounds on Ben - the police could have seen him, he should be at school, being normal.
Jay cancels his plans with Abi to help Ben, but later visits her. They kiss. Jay's bemused when Cora runs past about to be sick, unaware a dodgy prawn sandwich is to blame.
Alfie proudly shows everyone a video Kat's sent of Tommy's first steps.
Smitten with each other, Kim and Ray have breakfast in the café.
Last on
Credits
| Role | Contributor |
| --- | --- |
| Bianca Butcher | Patsy Palmer |
| Carol Jackson | Lindsey Coulson |
| Morgan Butcher | Devon Higgs |
| Tiffany Butcher | Maisie Smith |
| Derek Branning | Jamie Foreman |
| Jack Branning | Scott Maslen |
| Whitney Dean | Shona McGarty |
| Tyler Moon | Tony Discipline |
| Alfie Moon | Shane Richie |
| Lucy Beale | Hetti Bywater |
| Phil Mitchell | Steve McFadden |
| Ben Mitchell | Joshua Pascoe |
| Billy Mitchell | Perry Fenwick |
| Lola Pearce | Danielle Harold |
| Jay Mitchell | Jamie Borthwick |
| Abi Branning | Lorna Fitzgerald |
| Cora Cross | Ann Mitchell |
| Kim Fox | Tameka Empson |
| Executive Producer | Bryan Kirkwood |
| Director | Karl Neilson |
| Writer | Richard Lazarus |
| Ray Dixon | Chucky Venn |
| David Pitt | Thomas Coombes |
| James Real | John White |