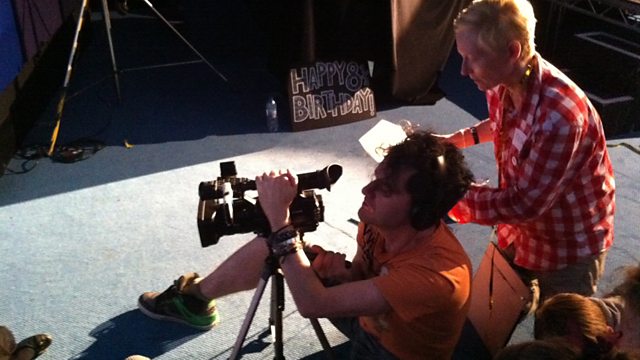 03/05/2012
Mark Cousins - The Story of Film: An Odyssey. An extended interview with award-winning film-maker Mark Cousins. Five years in the making, The Story of Film: An Odyssey covers six continents and 12 decades, showing how film-makers are influenced both by the historical events of their times, and by each other. It provides a worldwide guided tour of the greatest movies ever made; an epic tale that starts in nickelodeons and ends as a multi-billion-dollar globalised digital industry. We also discuss the DVD release with film critic Paul Gallagher
The Rail Way Man - actors Colin Firth, Nicole Kidman and screenwriter Andy Paterson discuss shooting Eric Lomax's best-selling book, THE RAILWAY MAN in Scotland. The epic true story of a war hero and the woman who matched his courage to reclaim the man she loved, the ten week shoot for the film started on April 30th on location in and around Edinburgh.
Piggy - Martin Compston discusses UK revenge thriller "Piggy" from writer-director Kieron Hawkes. The film centres around a young man named Joe (Martin Compston) who finds out his brother has been killed by a group of street thugs. Angry and looking for payback, Joe is unable to do anything about his brother's murder. That's until a mysterious man (Paul Anderson) called Piggy enters his life, thus setting off a downward spiral of violence and revenge. We also Review the film.
Dear Georges Melies, Thank you for Making the Movies Magical - a location report with Mark Cousins and Tilda Swinton discussing the making of little 8 1/2 min film on 27th April, with 100 kids, at the Macrobert Centre in Stirling. The film will be called Dear Georges Melies, Thank you for Making the Movies Magical and is inspired by Scorsese's Hugo. It recreates some of Melies magic tricks, like one child playing 7 musical instruments at once, and 100 children climbing into a small box!
Café De Flore - Paul Gallagher reviews this mystical and fantastical odyssey on love; a love story between a man and woman, And, between a mother and her son.
Last on