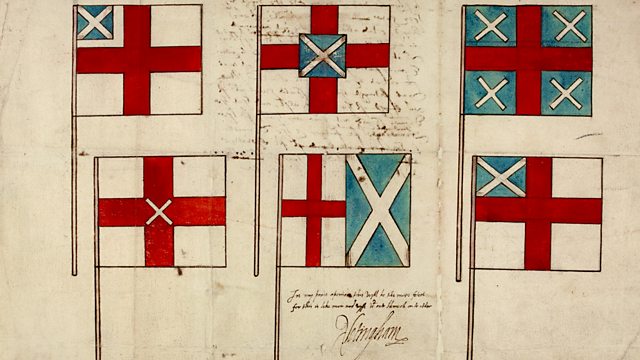 Listen in pop-out player
Neil MacGregor, former Director of the British Museum, continues his object-based history. Taking artefacts from William Shakespeare's time, he explores how Elizabethan and Jacobean playgoers made sense of the unstable and rapidly changing world in which they lived.
With old certainties shifting around them, in a time of political and religious unrest and economic expansion, Neil asks what the plays would have meant to the public when they were first performed. He uses carefully selected objects to explore the great issues of the day that preoccupied the public and helped shape the works, and he considers what they can reveal about the concerns and beliefs of Shakespearean England.
Programme 15. THE FLAG THAT FAILED - The problems in uniting Scotland and England and in creating a Great Britain are encapsulated in a set of designs for a common flag.
This programme was originally broadcast in 2012.
Producer: Paul Kobrak.
Last on
Flags for Great Britain
Date: 1603-1604  
Size: H:290mm, W:425mm  
Made in: Unknown  
Made by: Unknown  
Material: Paper
Making a nation can be difficult. When King James VI of Scotland became King James I of England, he found himself ruling over two countries with different political and legal systems, different established churches, different currencies, and a long history of mutual dislike and suspicion.
His central ambition was to unite these two countries to form a new unified state – a Great Britain. But turning this dream into public reality was quite another matter. As these early designs for the new British flag show, it's incredibly difficult to get the balance right and please everybody.
This object is from the National Library of Scotland
British Museum Blog: Building a Nation by John Morrill, Professor of Early Modern History, University of Cambridge
Quotations
'Publish we this peace To all our subjects. Set we forward, let A Roman and a British ensign wave Friendly together.'  
Cymbeline Act 5 Scene 5
Background
The Treaty of Union proposed by James I in 1604 followed half a century of unbroken peace between Scotland and England (if you don't count the usual border skirmishes)
As King, James I could force through the designs for a symbolic flag even if both parliaments were blocking the proposal itself
Heraldry is set up to indicate hierarchy and precedence and it was in fact heraldically impossible to unite the two flags in exact equality
The position nearer to the flag pole is better, as is being positioned at the top
The union flag remained unpopular in both nations and it took until the 1800s for it to reach its current, modern, form.
More from Radio 4: The Discovery of England's Past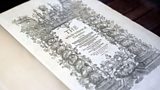 The Holinshed Chronicles collected the fragments of British History for the first time. But how much was based on political propaganda? Jonathan Bate investigates.
More from Radio 4: The Thistle and the Rose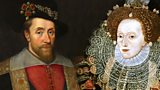 An intimate view of a monarchical succession told through the correspondence between James VI of Scotland and the gaoler of his mother, Elizabeth I.