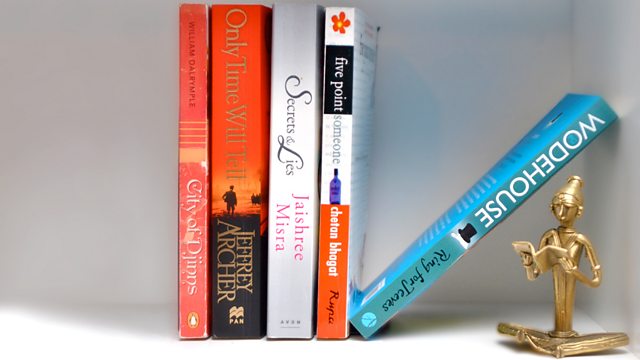 Move Over Wodehouse
India's English-speaking middle class is expanding fast and expected to reach 500 million by 2025. It represents a dream market for publishers and one that is set to become the biggest in the world. English book sales are already rocketing and international publishers are flocking to set up Indian offices.
So what books are Indians reading? How are the perennial classics such as Agatha Christie and P.G. Wodehouse faring against the emerging Indian authors? And what does it take to become a bestseller in India?
Jeffrey Archer says he only discovered he had become India's most successful foreign author by accident but now launches his books there first. At the 2012 Jaipur Literature Festival, Mukti talks to writers and publishers who describe their excitement at the rapidly expanding market. In a country of 30 major languages and over a thousand dialects, we hear why it's English that has become firmly established as the language Indian authors are using to reflect the country back to itself.
Mukti talks to superstar Indian writer Chetan Bhagat. His fast-paced comic tales set in call centres and college campuses seem to have caught the zeitgeist of modern India. His fans are mostly under 35 and appreciate his simple language and plots that reflect their lives. Whereas in the past Indian authors chased publishing deals in the West, he's proud of being a homegrown success. British writers such as Jaishree Misra and William Dalrymple, now both living in Delhi, describe how they are adapting their writing style to cater for their growing Indian readership. And Kapish Mehra offers tips on what it takes to be successful as a publisher in India today.
First broadcast May 3rd 2012
Producer Mukti Jain Campion
A Culture Wise production for BBC Radio 4
Contributors include:
Jeffrey Archer
Chetan Bhagat, topselling author
Urvashi Butalia, Zubaan Books
Krishen Chopra, Harper Collins India
William Dalrymple, writer
Kapish Mehra, Rupa
Jaishree Misra, British Indian novelist
Sunil Sethi, TV presenter Just Books
Producer: Mukti Jain Campion
A Culture Wise Production for BBC Radio 4.