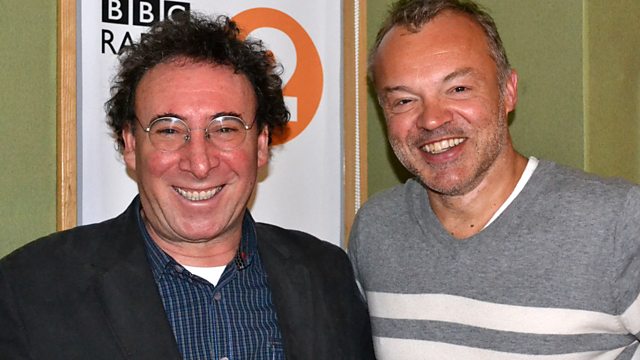 With Nicholas Sparks and Sir Antony Sher
This week, Graham's first guest of the day was American author Nicholas Sparks. He's sold almost 90 million copies of his 16 novels, and 'The Lucky One' starring Zac Efron is the seventh to have been made into a film. Nicholas used to sell pharmaceuticals before he became a full-time writer, and he explained how he has a strong interest in keeping fit, what it's like to work with Swedish film director Lasse Hallström and how when he's writing he always has one eye on how it might work as a film.
After 12, Sir Antony Sher popped into Studio 6C to chat about his latest stage role as Jacob Bindel in 'Travelling Light' at the National Theatre. He also spoke about his love of painting - which includes a self-portrait of all his stage roles, working with Billy Connolly on the film 'Mrs Brown', and his admiration for Paul Simon's album 'Graceland'.
In 'Grill Graham', "let's call him John" is having an affair with a married woman which has been going on for nearly 4 years. Apparently he's given her an ultimatum to leave her husband, or he'll walk away forever. The general consensus was that "John" should find the door. Then there was Sian in Leicester who was frustrated with her housemates and their quirks and horrible personal habits. Again, many thought she should also find the door!
This week's 'I Can't Believe It's Not Better' was the 1988 No. 1 "Nothing's Gonna Change My Love For You" by Glenn "bad 80's hairdo" Medeiros, who apparently named his children Chord and Lyric. And golf fan, Alan Bradford from Hornchurch in Essex, impressed us with his story of getting a hole in one, before talking us through the rather sad story contained within The Carpenters' haunting 1971 Top. 20 hit 'Superstar'.
Last on