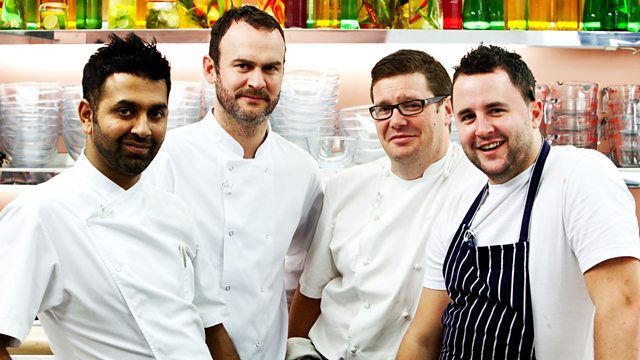 Great British Menu is back and the fight is on as some of the nation's greatest chefs battle for the chance to cook a glittering Olympic banquet.
This summer, another chapter will be added to Britain's sporting history when London hosts the summer Olympic Games. Great British Menu: The Olympic Feast will give the chefs a once-in-a-lifetime opportunity to create a special banquet to celebrate the Games coming to our shores and showcase contemporary British cooking at its absolute best.
Hosted by Sir Steve Redgrave, the Olympic Feast will honour the hopes and achievements of the country's sporting heroes, and it will be a glorious celebration of Britain's culinary talents.
The chefs' task is to create a menu that captures the Olympic spirit - food that is breathtaking and awe-inspiring. Every great Olympian pushes their discipline on to new levels of excellence and that is the challenge for the 2012 Great British Menu chefs - can they create world-class, groundbreaking food that will celebrate the Olympic ideal?
Now it's the battle of the Central chefs - returning contenders Aktar Islam and Daniel Clifford, and newcomer Paul Foster. All of them are determined to knock out their rivals in the race to the banquet. Here, they kick things off with their starters; which one is going to be first off the blocks? Will it be pork neck with ribwort plantain and pork scratchings, veal tartare with caramelised sweetbread and burnt onions, or breast of squab with confit leg and chilli and sweetcorn shoots?
Great British Menu veteran Glynn Purnell decides who goes through to the judges on Friday.
Last on
Credits
| Role | Contributor |
| --- | --- |
| Executive Producer | Nicola Moody |
| Executive Producer | Nicola Moody |
| Series Producer | Tanya Gottlieb |
| Series Producer | Tanya Gottlieb |
| Judge | Glynn Purnell |
| Judge | Glynn Purnell |