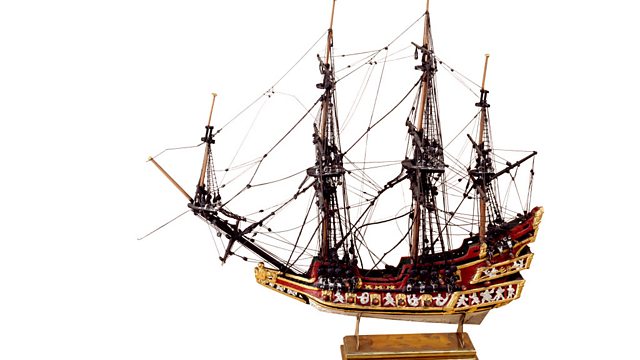 Listen in pop-out player
Neil MacGregor, Director of the British Museum, continues his object-based history. Taking artefacts from William Shakespeare's time, he explores how Elizabethan and Jacobean playgoers made sense of the unstable and rapidly changing world in which they lived.
With old certainties shifting around them, in a time of political and religious unrest and economic expansion, Neil asks what the plays would have meant to the public when they were first performed. He uses carefully selected objects to explore the great issues of the day that preoccupied the public and helped shape the works, and he considers what they can reveal about the concerns and beliefs of Shakespearean England.
Programme 10. TOIL AND TROUBLE - The differences between Scottish and English witches are revealed by a model ship, made to be hung in a church.
Producer: Paul Kobrak.
Last on
Model of a Bewitched Ship
Date: c.1589, possibly the 1590s    
Size: H:650mm, L:645mm    
Made in: Denmark    
Made by: Unknown    
Material: Wood, Paint
Although it may look like a toy, this ship model was actually intended as an offering to God. It was made to give thanks for survival at sea and for delivering the ship's royal passengers and cargo from the clutches of tempest-brewing witches.
On board the real ship in the spring of 1590, King James VI of Scotland and his new bride, Princess Anne of Denmark, had been at the mercy of the powerful storms in the North Sea. The Danish and Scottish rulers concluded this could only be the work of disturbed spirits conjured by witches and a string of trials and executions followed.
Witches would continue to be associated with James VI, through the vastly popular publication about the trials, News from Scotland, and most famously in Macbeth, the Scottish play that features three 'black and midnight hags' at the centre of the action.
This object is from the National Museum Scotland
British Museum Blog: Toil and Trouble by Keith Thomas, Historian
Quotations
But in a sieve, I'll thither sail, And, like a rat without a tail, I'll do, I'll do, and I'll do.'  
Macbeth, Act 1 Scene 3
'Double, double toil and trouble;/Fire burn, and cauldron bubble./Cool it with a baboon's blood,/Then the charm is firm and good.'  
Macbeth, Act 4 Scene 1
Background
This ship model was probably made to celebrate the marriage and safe return to Scotland of James VI and his bride, Anna of Denmark, in 1590
Terrible storms had prevented the couple meeting and marrying earlier. The Danish Admiral Munk attributed the storms to the work of Danish witches
Six women were tried in Denmark in May 1590 and executed for their alleged part in this plot
At least 20 of Shakespeare's plays have overt references to witches or witchcraft, without counting the general references to bewitchment, sorcery or magic
James I's interest in witchcraft was well known in England, not least through his book Daemonologie published in 1597 and reprinted in London in 1604
More from Radio 4: The mechanical galleon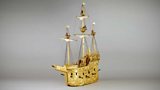 Neil MacGregor's world history explores the impact of the great age of European discovery between 1450 and 1600. Today he is with a magnificent clockwork galleon.
More from Radio 4: Witchcraft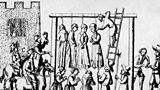 Melvyn Bragg discusses witchcraft in Reformation Europe; misogynism or a sustained attempt by the Christian Church to root out the last of an ancient religion of Europe?