Add music you love and enjoy it with
Nigel's Panna Cotta

Lemongrass Tea infused Panna Cotta
By Oliver Lesnik, Head Chef, The Cadogan Hotel, Sloane St, London.

Recipe makes 8 -10 portions.
Prep & Cooking Time: 20min
Setting Time: 4 hours



Ingredients:
900ml double cream
100ml milk
100g sugar
2 gelatine leaves, 'gold' strength if you can get them, or use agar agar as a vegetarian substitute
Juice of 1 lemon
100ml water
30g 'Tea Pigs' pure lemongrass tea (loose) or another favourite leaf tea, like lemon, ginger, mint.

Method:
1. Place cream, milk and sugar in heavy based pan & gently bring to boil ensuring the cream doesn't burn on the pan. Once boiling take off & allow to cool slightly.

2. Bring lemon juice & water to boil, remove from heat & add the tea. Cling film & leave to infuse for 5 mins. Then pass the liquid through sieve onto the cream.

3. Soak 2 gold gelatine leaves in cold water until soft then add to the warm cream.

4. Pass the complete mix through a sieve & pour into moulds. Allow to set for at least 4 hours. Once it's initially cooled, move to the fridge.
Watch Simon's Edinburgh Book Club Special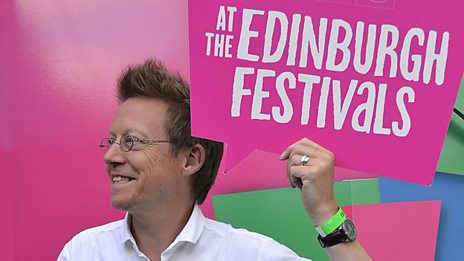 See Simon host a special Radio 2 Book Club live at Potterrow.
Podcasts
Simon Mayo considers listeners' darkest secrets and worst misdemeanours, as they beg for his…

The best bits of Simon Mayo Drivetime on BBC Radio 2, with star guests, audience interactivity,…