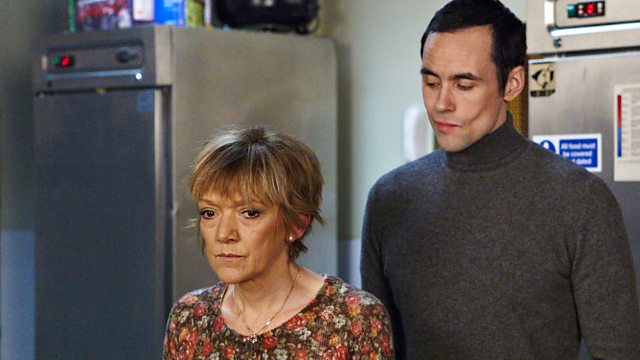 10/04/2012
Shirley informs Ben he and Jay are doing a reading at Heather's funeral. Phil talks about strategy for Ben's psychiatric interview; Ben's incensed when Phil mentions Kathy. Ben tells Phil he wants to confess. Phil's adamant Ben shouldn't mention Heather in the interview and gives him permission to blame everything on him. He tells Ben he loves him. During the interview, Dr Curtis asks Ben about his relationship with Phil, Ben realises he can't blame everything on his dad and starts to wonder if he's evil. Leaning what Ben said, Phil's furious. Shirley summons Jay, Ben and Phil to Heather's flat. She's discovered the photo frame's missing, realises it was the murder weapon, and has told the police. Ben's terrified when Shirley says find it and they've nailed Andrew.
Wangling an emergency scan, Lola learns her baby's a girl. Seeing Billy celebrating in the Vic, DS Crisp asks if he's going to Heather's funeral. He's intrigued when Billy's flashes his cash.
Ray's cookery lesson doesn't convert Bianca to home cooking and the kids loyally insist they prefer chicken nuggets. Derek gives Bianca a dodgy electricity key. Bianca decides to start selling cosmetics door to door.
Jean's upset when Roxy suggests Alfie shouldn't be paying her. Ray walks out after Roxy reprimands him for cooking Morgan and Tiffany sausages. Alfie persuades Jean to whip up some sausage surprise, but barely anyone orders any. Alfie dispatches Roxy to get Ray back and, feeling unappreciated by Bianca and the kids, he's happy to return.
Michael researches pre-nups. Comforting Jean, Michael learns about her scratch card win. Michael volunteers himself as Jean's kitchen assistant, to Janine's amusement. After Jean advises Michael that certain pre-nups don't stand up in court, Michael tells Janine he agrees to having one.
Fat Boy's new job, persuading people to switch energy providers, proves difficult.
Last on
Credits
| Role | Contributor |
| --- | --- |
| Shirley Carter | Linda Henry |
| Phil Mitchell | Steve McFadden |
| Ben Mitchell | Joshua Pascoe |
| Jay Mitchell | Jamie Borthwick |
| Roxy Mitchell | Rita Simons |
| Billy Mitchell | Perry Fenwick |
| Lola Pearce | Danielle Harold |
| Derek Branning | Jamie Foreman |
| Carol Jackson | Lindsey Coulson |
| Bianca Butcher | Patsy Palmer |
| Ray Dixon | Chucky Venn |
| Morgan Butcher | Devon Higgs |
| Tiffany Butcher | Maisie Smith |
| Michael Moon | Steve John Shepherd |
| Janine Butcher | Charlie Brooks |
| Alfie Moon | Shane Richie |
| Jean Slater | Gillian Wright |
| Executive Producer | Bryan Kirkwood |
| Director | Gwennan Sage |
| Writer | Christopher Reason |
| Arthur 'Fat Boy' Chubb | Ricky Norwood |
| Dr Curtis | Michael Elwyn |
| DS Crisp | Rufus Wright |