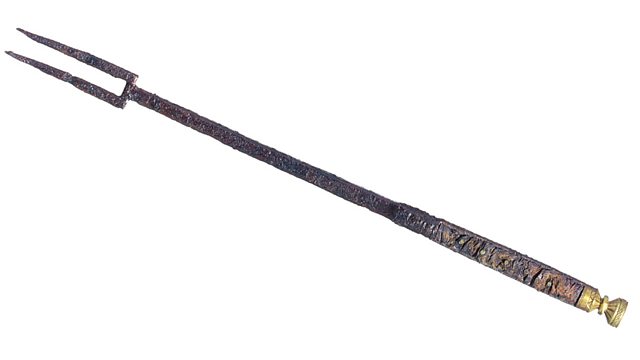 Snacking Through Shakespeare
Listen in pop-out player
Neil MacGregor, Director of the British Museum, returns to Radio 4 with a new object-based history. Taking artefacts from William Shakespeare's time, he explores how Elizabethan and Jacobean playgoers made sense of the unstable and rapidly changing world in which they lived.
With old certainties shifting around them, in a time of political and religious unrest and economic expansion, Neil asks what the plays would have meant to the public when they were first performed. He uses carefully selected objects to explore the great issues of the day that preoccupied the public and helped shape the works, and he considers what they can reveal about the concerns and beliefs of Shakespearean England.
Programme 3. SNACKING THROUGH SHAKESPEARE - A luxury fork discovered on the site of the Rose theatre helps explain what people were nibbling on when they first heard: "Is this a dagger I see before me?"
Producer: Paul Kobrak.
Last on
A Theatre Goers Fork
Date: 1587-1606  
Size: H:221mm, 11mm at widest point  
Made in: Unknown  
Made by: Unknown  
Material: Brass, Iron
London's theatres were at the centre of an entirely new type of entertainment business aimed at every section of society. Going to the theatre wasn't just about what you could see on the stage, but what you could consume when you got there.
So what were you likely to be doing when an actor on the stage uttered 'To be or not to be? Thanks to recent archaeology, we can go a long way to answering that question.
This fork was excavated from the site of the Rose Theatre on London's south bank and brings us closer to what the theatre-going experience would have been like in Shakespeare's day. Probably dropped by one of the richer audience members in the galleries it would have been used for daintily eating sweetmeats, while the groundlings down below were more likely to indulge in beer and oysters. One thing is clear – food and drink were a fundamental part of a good day out in Southwark.
This object is from the Museum of London
British Museum Blog: The Archaeological findings at Shakespearean playhouses by Julian Bowsher, Senior Archaeologist, Museum of London Archeology
Quotations
'Let the sky rain potatoes. Let it thunder to the tune of ''Green-sleeves'', hail kissing-comfits, and snow eryngoes. Let there come a tempest of provocation, I will shelter me here.'  
The Merry Wives of Windsor, Act 5 Scene 5
'Dear actors, eat no onions nor garlic; for we are to utter sweet breath.'  
A Midsummer Night's Dream, Act 4 Scene 2
Background
The most common foodstuffs eaten at the theatre were fruits, nuts and shellfish
Oyster consumption required knives - the standard dagger every man carried was as much a piece of cutlery as it was a weapon
While knives and spoons were common in England at the time, forks were still considered highly specialised pieces of cutlery
This fork is for sweetmeats: marchpane (marzipan), sugar-bread, gingerbread etc - the equivalent of a box of chocolates today
Shakespeare's banquet scene in Henry VII brought the house down - literally. An elaborate arrival on stage was accompanied by cannon fire - which managed to set alight the Globe's thatched roof and the theatre burnt to the ground.
More from Radio 4: Women in the Alehouse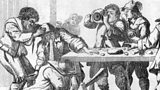 Dr Justin Champion investigates the lives of Elizabethan women through the stories of the customers, owners and 'working girls' who made up the world of the alehouse.
More from Radio 4: William Shakespeare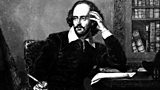 Matthew Parris presents the biographical series. Poetry curator Daisy Goodwin nominates the Bard, William Shakespeare. She is joined by Dominic Dromgoole of the Globe Theatre.
More from Radio 4: Food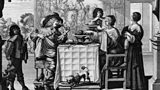 Melvyn Bragg discusses the history of food in Modern Europe, a cultural as well as a culinary story.
More from Radio 4: The Tudor Tarantino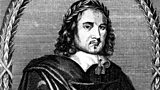 Dominic Arkwright charts the rise and fall of Thomas Middleton, the bad boy of Renaissance drama, and examines the claim that Middleton had a hand in the works of Shakespeare.
More from Radio 4: Puddings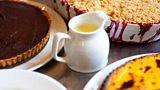 Puddings are not food, they are medicine, according to food writer Nigel Slater, and they are a therapy at which Britain excels. Simon Parkes pays tribute.