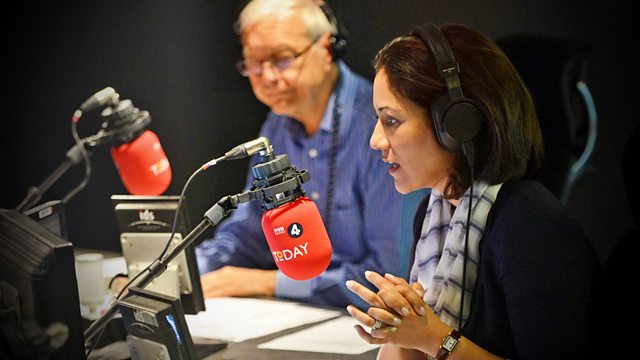 18/04/2012
Morning news and current affairs with James Naughtie and Evan Davis.
0653
For decades the Foreign Office claimed there were no detailed local records kept from the end of the British empire, but after a group of Kenyans brought a case against the government at the High Court, it admitted they did exist. Foreign Secretary William Hague said he wants to release as many files as possible, subject to legal exemptions, and they are being sent to the National Archives with the first tranche of nearly 9,000 records being released today. Sanchia Berg reports.
0712
The BBC has learned that in the last 24 hours, lawyers for the Libyan military commander Abdul Hakim Belhadj have served a legal claim on the former Foreign Secretary Jack Straw for his alleged role in Mr Belhadj's illegal rendition to Libya in 2004. Security correspondent Frank Gardner has the background to the story while Sapna Malik, a lawyer representing Abdul Hakim Belhadj, responds.
0743
Today is the 70th anniversary of the first US air raid on Japan in response to Pearl Harbor: the Doolittle Raid. Lt Col Edward J. Saylor, who was one of 80 crew members to take part in the 1942 bombing attack on Tokyo describes his experiences.
0810
In the first of a series of interviews with party leaders ahead of the 3 May local elections, Liberal Democrat leader Nick Clegg talks to the Today programme's James Naughtie.
Last on