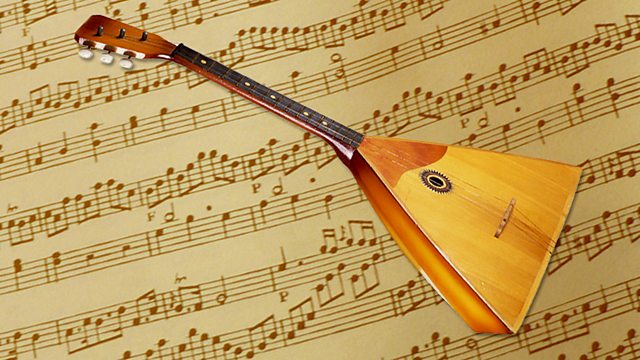 Balalaika Born Again
Pat Metheny or Paganini? Who is Alexey Arhipovskiy?
This is the story of the humble, three-stringed balalaika and the story of a maverick Russian virtuoso, Alexey, who wants to transform the balalaika's image; to show it is more than a piece of folksy soviet souvenir kitsch. Alexey has developed a beautiful new sound and a new repertoire for the balalaika, mixing a classical music sensibility with the temperament of prog rock. With his trusty manager, Mikhail, he wants to take the balalaika out of Russia and beyond the former Soviet borders. But can he take Russia out of the balalaika? Nick Baker travels to Moscow to meet him.
He finds a musical rebel and an intriguing character who combines both adult seriousness and childlike enthusiasm for an instrument once played only by peasants. At the Gnessian Musical Academy, Alexey's Professor recalls a gifted musical student who took his formal classical training and turned it into something else. He added his own spirited individualism, as well as some electronic effects.
In Dubrovnik, Croatia, Nick meets up with Alexey again as he prepares to perform at the Julian Rachlin and Friends Chamber Music Festival. He is virtually the only non-classical act on the bill. The festival is full of five star ex-Russian prodigies whose families left Russia in the 1980s and brought with them tried and tested classical music. What happens next?
Producer: Tamsin Hughes
A Testbed production for BBC Radio 4.