Jacqueline Thomas : The Brodsky Woman

It's the fortieth anniversary for the Brodsky Quartet, the string quartet that have performed more than 2000 concerts and made more than fifty highly acclaimed recordings. The cellist, Jacqueline Thomas, is the only woman in the group. She joins Jane to talk about the challenges and the pleasures of playing in a chamber quartet and with her cello to hand, she explains how they put together the arrangements for their latest recording, 'Petits-fours, Favourite Encores'.

Self-help classic "Feel the Fear and Do it Anyway'

It is twenty-five years since the publication of Susan Jeffers self-help classic, 'Feel The Fear and Do It Anyway', which has sold about 15 million copies in 100 countries. But do self-help books really help? Jane speaks to Times journalist Helen Rumbelow about why she thinks 'Feel The Fear' should be re-issued not as a self-help book but as a feminist classic, and to Toby Wiseman Editor of Men's Magazine who thinks that men are much more into self-empowerment that a woolly set of principles.

'Feel the Fear and Do It Anyway' by Susan Jeffers – 25th Anniversary Edition published 5th April 2012

Khadija Ismayilova and Human Rights in Azerbaijan

In a few weeks' time, the eyes of the world will be focused on Azerbaijan when it hosts this year's Eurovision Song Contest. However behind the scenes the government has been accused of human rights abuses and threatening freedom of expression. Prominent Azeri investigative journalist Khadija Ismayilova is accusing the authorities of a smear campaign against her after she uncovered apparent government corruption. Ismayilova alleges that the government installed a covert camera in her apartment and posted a video online of her having sex in order to blacken her name. Jane speaks to Khadija Ismayilova about the story she alleges to have uncovered and the subsequent 'smear campaign'. Jane is also joined by Jenny Norton - former Editor of the BBC's Central Asia and Caucasus region to discuss her claims and the wider human rights situation in Azerbaijan.

Women in Ancient Rome

Traditionally, when people have thought about Ancient Rome they have thought about Emperors and Senators, Generals and soldiers – the people involved in the power-politics of Roman society, nearly all of whom were men. Women, and particularly ordinary women living outside the Imperial household, are almost entirely missing from the picture. Yet at its height the city of Rome had a population of over a million people and it's fair to assume that around half of them were women. Mary Beard is Professor of Classics at the University of Cambridge and in her new TV series she builds up a tantalising picture of the every day life of women in the Imperial City. From child mortality to relationships with slaves, she tells all to Jane.

'Meet The Romans With Mary Beard', BBC 2, starts on 17th April at 9pm.

Surrogacy and maternity rights

Mothers who use a surrogate to have a child are not entitled to either maternity leave or statutory maternity pay. This is in contrast to adoptive parents who can have up to a year off work. This afternoon a Ten Minute Rule Bill calling for improved maternity rights for so-called 'Intended Parents', is being introduced to Parliament by the Labour MP John Healey. Will it make a difference? Jane is joined by surrogacy lawyer Natalie Gamble, who's been campaigning on this issue for five years.
Woman's Hour Power List 2014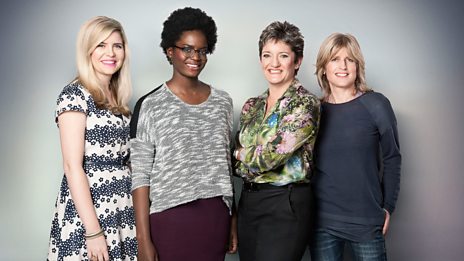 Identifying the top ten game changers operating in the UK today.
Free downloads
Discover cooking techniques and tips to help you perfect your cooking know-how. Jenni Murray and…

Which ten women in the UK have done most to game-change the way power operates in the UK, whether in…

Woman's Hour brings you the big celebrity names and leading women in the news, with subjects ranging…