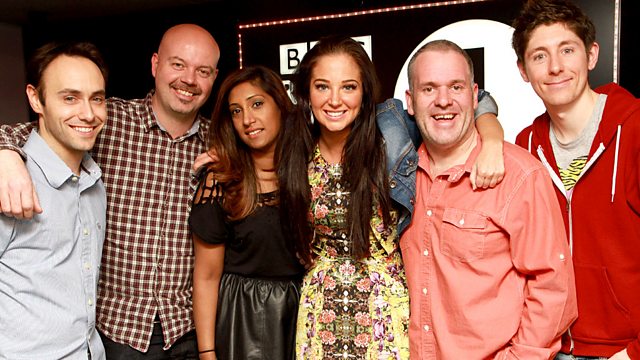 Monday - Olly & Tulisa
06:35 – The webcam curtains are raised and, as Comedy Dave is off this week, the team reveal who is sat in his chair – Olly Murs
Chris then reveals that Olly is actually in to hand over the 'baton' to a new Comedy Dave replacement. Until then, Olly makes himself comfortable and drinks Dave's tea. He then talks about his failed April Fool's Day joke about getting a tattoo and the team discuss the general rules of April Fool's Day.
07:05 – Olly tells the story of meeting a girl on Deal Or No Deal but she went off him after he won a tenner and then moved to Australia. Dom and Olly are wearing the same shirt (sort of).
07:25 – Later Olly's off to do Deal Or No Deal again and also on This Morning, so the team decide on a word for him to get in the interview with Phil and Holly.
07:40 –Olly is supporting One Direction on their America tour this year, the team decide they would like to visit.
07:50 – Olly's new single is out this week and Chris discovers Olly doesn't know much about his finances. Then they do the Chart countdown.
08:10 – It's time to handover over the Comedy Dave 'baton' to… Tulisa! The team explain to her why Olly uses the word 'rocket' to describe girls he finds attractive. Chat turns towards Olly needing a girlfriend.
08:20 – Chris tells the story of when they're all out drinking one night and Tulisa gets Chris's friend Gavin to come into the toilet with her so she can show him something. Gavin thinks his lucks in… it's not.
08:40 – We then talk about Rodeo Revision tomorrow. The team pick their subjects.
09:10 – Chris chats about the new Radio 1 schedule. Then we play Tulisa's new solo single 'Young' and discover her mum comes from Sheffield.
09:40 – The team play the Getting To Know Tulisa quiz.
09:50 – Answers to Getting To Know Tulisa quiz. No-one scores very much including Aled who thinks her real name is Petula.
10:00 – Chris, Tulisa and the team say hi to Fearne and talk about washing trainings and laying turf.