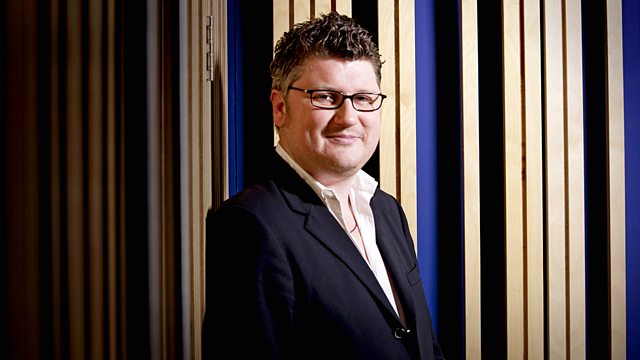 Luke Bedford - Seven Angels
Tom Service presents a performance of young British composer Luke Bedford's 2011 chamber opera "Seven Angels". Commissioned and given its premiere by Birmingham Contemporary Music Group and The Opera Group, it tells the story of seven angels who have fallen through space and time for so long, they have forgotten why. Coming to rest on a desert landscape, they imagine the creation of a legendary garden that once flourished there and its destruction from greed and neglect. Bedford's first opera, it has a libretto by the poet Glyn Maxwell, and was inspired by Milton's Paradise Lost.
Tom is joined by tenor Christopher Lemmings, the BCMG's artistic director Stephen Newbould and composer Luke Bedford to discuss the opera, and it is preceded by Luke's 2006 piece Or Voit Tout En Aventure..
Seven Angels
Music - Luke Bedford
Libretto - Glyn Maxwell
Conductor Nicholas Collon
Director John Fulljames
Angel 1 / Waitress Rhona McKail
Angel 2 /Queen Emma Selway
Angel 3 / Chef / Priestess Louise Mott
Angel 4 / Prince Christopher Lemmings
Angel 5 / Porter / Industrialist Joseph Shovelton
Angel 6 / Gardener / General Owen Gilhooly
Angel 7 / King Keel Watson
BCMG Players:
Flute / Piccolo / Alto Flute: Marie-Christine Zupancic
Clarinet / Bass Clarinet: Mark O'Brien
Bassoon / Contra-bassoon: Margaret Cookhorn
Trumpet / Flugelhorn: Jonathan Holland
Trombone: Duncan Wilson
Percussion: Simon Limbrick
Piano: Malcolm Wilson
Viola 1: Christopher Yates
Viola 2: Michael Jenkinson
Viola 3: Myriam Guillaume
Viola 4 / Violin: Marcus Barcham-Stevens
Double Bass: John Tattersdill
Seven Angels was commissioned and produced by The Opera Group and Birmingham Contemporary Music Group and co-produced with ROH2 and Tramway Glasgow.
www.theoperagroup.co.uk
www.bcmg.org.uk.
Last on