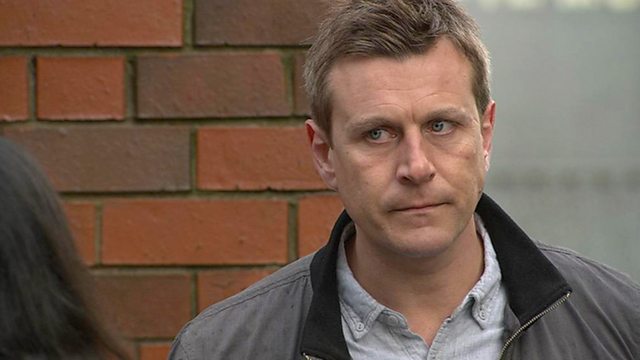 10/04/2012
Gabriel is still in a bad way when Lenny asks him to avoid the arcade while he attends to some business. Gabriel states his claim on HIS business and refuses. Meanwhile, DCI Donald and newly appointed DC Will Cooper are looking into Lenny's criminal associates and decide to keep an open mind about Gabriel's involvement.
Conor comes to see Gabriel at the arcade, excited at the prospect of going to a concert with him that evening, and tells him that Leyla is looking to speak to him to organise logistics. Gabriel dodges some difficult questions from Conor about why Leyla and Gabriel haven't visited Michael in prison but lends an understanding ear when Conor admits he is finding it difficult at home without his dad. At the Health Centre, imperious Miriam is moving into Dan's room at the surgery when Gabriel takes Leyla aside for a chat. She tells him that she will allow the boys to go to the concert tonight. Gabriel returns to the arcade annoyed and thumbing his nose to Leyla lets Conor have the day off school. Meanwhile Lenny has set up a meeting with a young gangster, Joe Norton, who unbeknownst to Lenny is being tailed by Will. When Norton turns up to the office carrying a gun, Lenny takes it away and chastises him for his stupidity at walking around armed. Gabriel can't hide his disdain and questions Lenny's reasoning for doing business with the likes of Norton. Joining the dots, the police raid the arcade, but Gabriel quickly hides the gun to prevent Lenny being implicated, which would harm his business. With no evidence, the police head off but not before Leyla sees them with Conor and Gabriel. Livid that Gabriel has taken Conor out of school and got him involved with low-life Lenny, Leyla cancels the concert and a distraught Conor swears at Leyla and runs off in anger. Lenny is impressed with the way Gabriel handled the raid and offers to bring Gabriel in on his deal instead of Norton. Gabriel is not so sure. When Conor turns back up, Gabriel persuades him to head home and promises to speak to Leyla about the concert. But when they arrive, Leyla accepts Conor.s apology but still won.t let them go to the concert. Leyla thanks Gabriel for bringing Conor back but tells him that after today.s debacle he will have nothing to do with the boys from now on. With Gabriel banished, the household erupts into chaos and Leyla breaks down while Nicole looks on with grim satisfaction. Now with nothing to lose, Gabriel decides to take Lenny on his offer and successfully distributes the knock-off cigarettes to a safe supplier. Back at Police HQ, Gabriel is moved up as a suspected associate of Lenny.
Malcolm wants to make the move to Loch Lomond but Dan, Eileen, Liz and Gina are concerned and try to convince him he will need familiarity if his condition worsens. Undeterred, Malcolm enlists Dan to help him pack starting with the books in his bedroom before heading into town. Meanwhile, Eileen and Gina meet to discuss Malcolm's condition and struggle with the idea of losing their old reliable Dad. A visit to the estate agents takes the wind out of Malcolm's sails when he learns the astronomical house prices and then has a memory lapse at home and accuses Liz of moving his books. Afterward, Dan, Gina, Eileen and Liz meet up and discuss how to prevent Malcolm from moving. When they return home and find Malcolm gone, they all suspect the worst until Malcolm appears having gone for a walk by the river, and announces he's decided to stay. Back at the house, Malcolm proposes to a surprised Liz and she accepts with glee.
Stella starts to get paranoid when Iona suggests her vomiting fit might mean she's pregnant. When she confesses she's late with her period, Iona advises her to get tested pronto. A distressed Stella puts it off, but sees nothing but babies all over Shieldinch on her way to work. When Wee Bob and Stella have dinner with the Mullens, Scarlett excitedly asks when they'll be having kids. Afterwards, Bob can see it's got to Stella, and asks her what's wrong. When she admits her fears, they both decide to do a test in the morning only to find that nosy Iona has already bought them one. The test comes back negative and both admit to feeling a little disappointed and consider taking this next step in their lives.
Last on
Credits
| Role | Contributor |
| --- | --- |
| Adeeb Brodie | Taryam Boyd |
| Bob Adams | Stephen Purdon |
| Conor Brodie | Rian John Gordon |
| DCI Donald | Robin Laing |
| Dan Hunter | Adam Robertson |
| Driver | Frank Gilhooley |
| Eileen Henderson | Deirdre Davis |
| Gabriel Brodie | Garry Sweeney |
| Gina Hamilton | Libby McArthur |
| Iona McIntyre | Claire Knight |
| Jimmy Mullen | Billy McElhaney |
| Kelly-Marie Adams | Carmen Pieraccini |
| Lenny Murdoch | Frank Gallagher |
| Leyla Brodie | Maryam Hamidi |
| Hayley McCrone | Pamela Byrne |
| Liz Buchanan | Eileen McCallum |
| Malcolm Hamilton | Johnny Beattie |
| Miriam Stubbs | Kate Rutter |
| Molly O'Hara | Una McLean |
| Nicole Brodie | Holly Jack |
| Joe Norton | Kevin Kelly |
| Raymond Henderson | Paul Samson |
| Scarlett Mullen | Sally Howitt |
| Stella Adams | Keira Lucchesi |
| Tatiana O' Hara | Magdalena Kaleta |
| Will Cooper | Scott Vickers |
| Producer | Donald MacKinnon |
| Director | Stuart Davids |
| Writer | Ian Madden |