Add music you love and enjoy it with
Choose Our Blues!

Which of these would you like us to end the show with?

OPTION A :
The Spencer Davis Group – Gimme Some Lovin'

OPTION B :
BB King – Better Not Look Down

OPTION C :
Bo Diddley – Bo Diddley

OPTION D :
Chick Shack – I'd Rather Go Blind

Text the word 'BLUES' plus your choice A, B, C or D to 88291 – with NO gap in between.

Texts are charged at your standard message rate.

You have until 6.45 tonight…then join Paul Jones after 7 for the best in blues

Today's Confession: False Alarm

Father Simon and the recently refreshed collective.

I beg forgiveness for something which happened during my school days and have regretted ever since.

This tale starts about 15 years ago when I was in my final year of school. One of my chosen subjects was electronics and the time to start our final projects was arriving. These projects were a big deal. They accounted for the majority of the marks and as the class was all boys bar one girl, there was a lot of teenage competition to be the best.

Our projects consisted of finding something useful in everyday life and make a working model of it using our rudimentary grasp of electronics. At the start of this project we were all told that the marks would be awarded through our knowledge of the subject. Therefore if our final models didn't work, but we had shown enough evidence that we knew how it should work, we would still do well.

Foolishly I decided to go for a very complicated project to get the best marks and ran into problems straight away. I chose to make a model of an elaborate weighing machine. There were sensors and gauges going in different directions and whilst I could tell you how it was supposed to work, I was pretty certain from the start the chances of my model working were pretty slim. Could I construct some scales that could weigh coins or stones or maybe my friend Tim's used hanky? Almost certainly not. But I was trying.

This strategy was the polar opposite of another boy in my class, let's call him Thomas. Now Thomas made a model of a house alarm. It required very few circuits, a few sensors and within a few weeks it was built and working. It didn't help matters that every time we turned up for that lesson we would all get straight down to work whilst he would sit there testing it. He knew it worked, but found great amusement in showing off to everyone else that it was finished.

One day I chose to stay in the classroom during lunchtime as I needed to put some extra work into my project. No-one was around and as a respectable prefect who had never been in trouble, the teacher was happy for me to stay unsupervised.


I was struggling away when I looked up and saw Thomas' project, sat on the desk ready for our lesson after lunch. I ambled over and was ruefully looking at a completed working model. A sudden urge came over me to switch it on, I just wanted to know what it felt like for your own hard work to come to fruition. I turned it on and pressed one of the sensors, and a little alarm went off. I took my finger away and the alarm stopped. It was simple but effective. I then wondered what would happen if i pressed two sensors at once. Like last time a little alarm went off. I removed my fingers. That same little alarm did not go off. In a panic I bashed it to make the whole thing switch off. There was a crunch, but only a small one. I packed my things and decided some lunch might not be such a bad thing and scarpered before anyone else saw me in the classroom.

After lunch we trundled in to the class. As usual we all sat down and started beavering away and Thomas headed over to his model. "Don't touch that, you'll break it" said the teacher. "Just leave it alone and finish your paperwork"

Thomas went back to his chair and got on with his documentation. I cheered up, as if he doesn't touch it he won't know it's broken. Unfortunately when the teacher had his back turned Thomas got up and headed for his model. He switched it on and straight away the howling alarm went off. A look of panic came across his face. He switched it off and on again to the same result. Our teacher span round and roared "I told you to leave it alone, you never listen." Realising what had happened the whole class burst out laughing and cheering. I was a little confused by the reaction but it was soon made very clear to Thomas no-one had appreciated him showing off and the rest of the afternoon was spent in good spirits by all, except Thomas.

A few weeks later we all finished our final projects. Thomas handed in his project, he could never figure out how it went wrong and it remained faulty. Button press-howl-switch off. Everytime. I feel karma intervened at this point as my project never worked either. Even Tim's snotty tissue proved too much for my scales. The problem was that whilst I did get good marks for attempting something so complex, this was not a luxury afforded to Thomas. His marks were lowered as a project as simple as his should have had a working finished model and his documentation was poor, it turns out he didn't have time to do it as he spent so long trying to fix his model.

Dear collective, I seek forgiveness for ruining Thomas's project and causing his low grade. I also want to seek forgiveness for our teacher who had enough on his hands without having to try and help Thomas again.

Newt.
Watch Simon's Edinburgh Book Club Special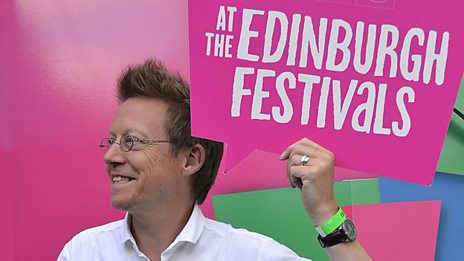 See Simon host a special Radio 2 Book Club live at Potterrow.
Podcasts
Simon Mayo considers listeners' darkest secrets and worst misdemeanours, as they beg for his…

The best bits of Simon Mayo Drivetime on BBC Radio 2, with star guests, audience interactivity,…