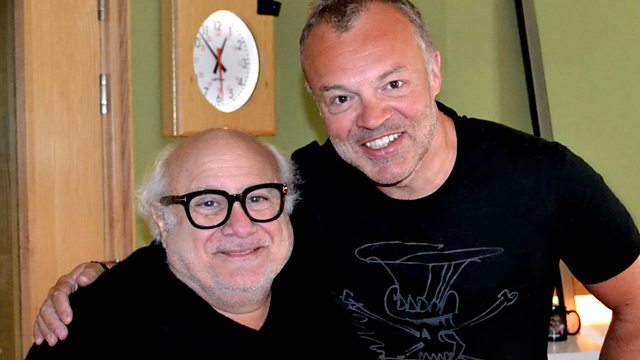 With Danny DeVito and Cillian Murphy
This week's 'I Can't Believe It's Not Better' track could have been any of the songs played in the first half an hour of the show, but the actual choice, of George Goodger in Ashford, was a No. 1 from 1982 - 'Happy Talk' by Captain Sensible. In 'Grill Graham', Trudy (not her real name) in Plymouth was angry that her neighbour had hung a bird feeder on a branch in her garden. The general consensus was that if that was all 'Trudy' has to moan about, she should be grateful! And then there was Tim, who's been with his girlfriend for 3 years, is in his final year at University and is considering joining the military and couldn't see a future for the relationship. Reading between the lines, it appeared Tim wasn't too bothered and wants the relationship to end anyway.
Graham's first guest of the day was Cillian Murphy, the Irish star of '28 Days Later', 'Inception' and 'Batman Begins'. He talked about starring in the London transfer of Enda Walsh's 'Misterman', playing The Scarecrow in Batman, and he also taught Graham that there is no K in the Irish language, even though Mr. Norton had studied it from the age of 4 to 18! Every day's a school day Graham.
'Tune With A Tale' was The Rah Band's 'Clouds Across The Moon' as chosen by Roger Filler who joined us live from his new narrowboat, 'The Cat's Whiskers', somewhere in the Midlands.
After 12, a true Hollywood legend popped in. Danny DeVito is in London making his West End debut in Neil Simon's 'The Sunshine Boys' opposite Richard Griffiths. Danny also spoke about his love for the music of Bruce Springsteen, a possible sequel to 'Twins', and how he came to direct the hit film adaptation of Roald Dahl's 'Matilda'. He also took a photo of his foot for Twitter! Each to their own.
Last on