Find out more about our presenter Marcus du Sautoy

Professor Marcus du Sautoy is the Simonyi Professor for the Public Understanding of Science, and a Professor of Mathematics at Oxford University. He is a broadcaster, author and science communicator, and has worked tirelessly to make mathematics more accessible to the public.

Marcus completed an undergraduate degree and a DPhil in mathematics at Wadham College, Oxford and is currently a fellow at New College, Oxford. His research involves aspects of group theory and number theory, especially understanding the world of symmetry using zeta functions, a classical tool from number theory. In 2001, he won the prestigious Berwick Prize of the London Mathematical Society awarded every two years to reward the best mathematical research made by a mathematician under 40, and in 2009 he was awarded the Royal Society's Faraday Prize, the UK's premier award for excellence in communicating science. He received an OBE for services to science in the 2010 New Year's Honours List.

Marcus has used his mathematical expertise to present numerous television programs and documentaries, including Mindgames, The Story of Maths, The Code and various Horizon documentaries. He is a constant contributor to BBC and other national radio stations, and has written regular articles for The Times, The Guardian, and The Telegraph amongst others. He has published three books - The Music of the Primes, which was also televised on BBC Four in 2005, Finding Moonshine published in 2008 and The Number Mysteries published in 2010 based on the Royal Institution Christmas Lectures he presented in 2006.

Marcus lives in London with his wife and children, and when not promoting science and maths, enjoys music, playing football and supporting his beloved Arsenal.
Credits
Presenter

Marcus du Sautoy
Presenter

Marcus du Sautoy
Director

Helen Sage
Director

Helen Sage
Producer

Helen Sage
Producer

Helen Sage
Series Editor

Aidan Laverty
Series Editor

Aidan Laverty
Horizon interactive ebook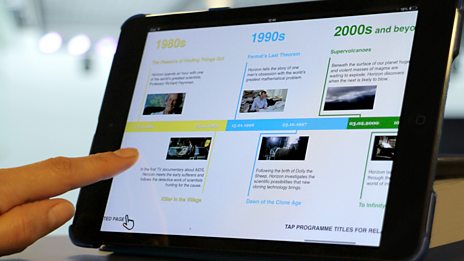 Celebrate 50 years of Horizon with this free downloadable ebook for tablets.
Horizon archive collection

Entire episodes chosen to celebrate the show's 50th anniversary, starting from 1964.