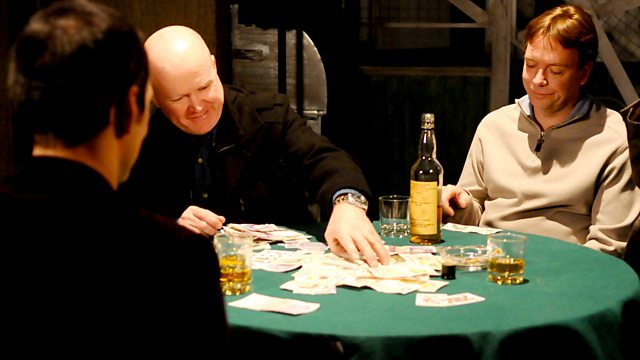 03/04/2012
Max wants to cook dinner but Tanya's hosting book club. Although Roxy and Mandy are excluded, Alfie thinks Roxy should go. Mandy and Roxy reminisce about past nights out and gate crash book club. The women toast to Tanya's recovery and discuss men. While Bianca would pick Alfie, Roxy wants someone who's on her side. Tipsy, Roxy blurts Tanya's dealt amazingly with the strain on her relationship. Cora overhears and confronts Roxy, who laughs it off, then Max. Max claims he rejected Roxy and calls her at Cora's insistence. Roxy's humiliated but lies that she offered herself on a plate. Cora's still suspicious. Later, Roxy sobs to Alfie she was seeing a married man, and confesses her loneliness. Alfie dries her tears and hugs her. Roxy's stunned - the right man's been there all along.
Ian deflects Mandy's suggestion of a night in in favour of the poker game. At book club, Mandy sings Ian's praises - he's romantic and sweet. Later, Ian's paranoid when the women drunkenly giggle about him. Frustrated, Mandy snaps it happens to every man. The women shriek as Ian flees, mortified.
Alfie refuses a job from Derek but agrees to a poker game. Stirring trouble, Michael invites Phil. When forced, Alfie chooses Phil over Derek when they both want to use their own cards. Derek wants to play cash only. When Phil emerges victorious, Alfie hints the rent will be difficult but Phil's unsympathetic. Desperate for cash, Alfie accepts Derek's job and tells Roxy he has a plan.
Denise's irate when Zainab serves Jack in the Minute Mart when he's still barred. Kim's jealous when Tanya and Zainab think Ray's fit. Zainab wants Denise to go on a blind date.
At book club, Bianca sneaks food into her handbag. Dot's upset no-one's mentioned Heather and leaves early.
Last on
Credits
| Role | Contributor |
| --- | --- |
| Roxy Mitchell | Rita Simons |
| Alfie Moon | Shane Richie |
| Cora Cross | Ann Mitchell |
| Max Branning | Jake Wood |
| Tanya Jessop | Jo Joyner |
| Derek Branning | Jamie Foreman |
| Michael Moon | Steve John Shepherd |
| Phil Mitchell | Steve McFadden |
| Ian Beale | Adam Woodyatt |
| Mandy Salter | Nicola Stapleton |
| Kim Fox | Tameka Empson |
| Denise Fox | Diane Parish |
| Zainab Khan | Nina Wadia |
| Dot Branning | June Brown |
| Jack Branning | Scott Maslen |
| Bianca Butcher | Patsy Palmer |
| Carol Jackson | Lindsey Coulson |
| Executive Producer | Bryan Kirkwood |
| Director | Ian White |
| Writer | Wendy Granditer |